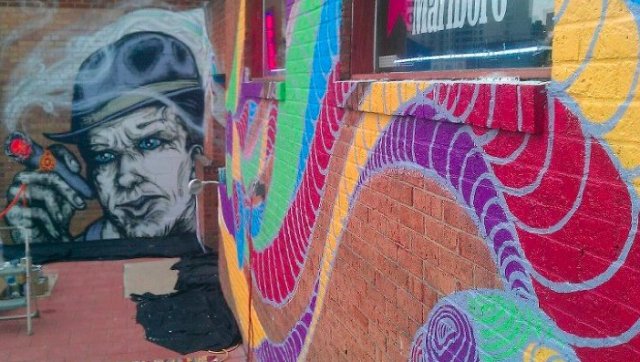 WASHINGTON -- A Northern Virginia head shop is in trouble with the law -- but not for the reasons you might expect.
ARLnow.com reports that Smokey Shope III, a Crystal City business selling water pipes, bowls, hookahs, and other "tobacco" paraphernalia, has been has come to Arlington County's attention because of a mural:
About two weeks ago, Smokey Shope's manager said, the store paid $1,000 to a traveling band of artists to paint a mural on the front of the store. Salim Amin, the manager, said the intent was to create a work of art that would beautify the block. The finished product was a man, smoking a cigar, with colorful and decorative smoke emanating from the cigar.

Just two days after the mural was complete, however, zoning officials stopped by with some instructions: the cigar had to go up in smoke, so to speak, as it's a product being sold by the business and thus an illegal sign according to the county's zoning ordinance.
Arlington's sign-related regulations impose some restrictions on businesses that put up murals and other outdoor art relating to their businesses. The regulations were challenged by another Arlington business -- Wag More Dogs, a doggie daycare abutting the Shirlington dog park -- which had been told to paint over its 960 square foot mural featuring cartoon dogs.
Wag More Dogs argued that Arlington's sign ordinances violated the First Amendment -- the United States Court of Appeals for the Fourth Circuit ruled otherwise earlier this year.
Will Smokey Shope III paint over parts of the mural? Will it file its own lawsuit? Decisions are on hold for the time being, ARLnow.com reports, "until the store's owner, Amin 'Smokey' Atta, returns from a vacation in Jamaica next week."
For now, an employee told The Huffington Post by phone, the store has simply placed a Route 66 sign over part of the mural "so it doesn't look like a cigar anymore." (See the covered up cigar on ARLnow.com.)
Separately: Does the existence of Smokey Shope III in Crystal City -- it opened about three months ago; it's the third branch of Manassas' Smokey Shope -- start to answer The Washington Post's recent question of "Can Arlington's Crystal City become a hip place to live?"
While you're here, want to check out some other murals? These photos are of Lady Aiko's New York murals, and others by Kenny Scarf, Barry McGee, Shephard Fairey, Os Gemeos and Mr. Brainwash, the subject of the 2010 film "Exit Through The Gift Shop."
PHOTO GALLERY
Lady Aiko's Mural
BEFORE YOU GO