In an effort to move beyond his "legitimate rape" comments, U.S. Senate candidate Rep. Todd Akin (R-Mo.) launched a new section of his website that asks supporters to sign a petition telling his opponent, Sen. Claire McCaskill, that "You're Standing With Todd Akin."
But when the website was first launched, his campaign made an embarrassing spelling mistake, misspelling "you're" as "your."
Many Twitter users quickly pounced, pointing out the error.

The campaign swiftly corrected it, but didn't get it quite right, spelling it "your're."

The campaign finally got it right on its third attempt.

Akin's website also originally featured an image of a fetus, which was quickly removed after Twitter users picked up on the image.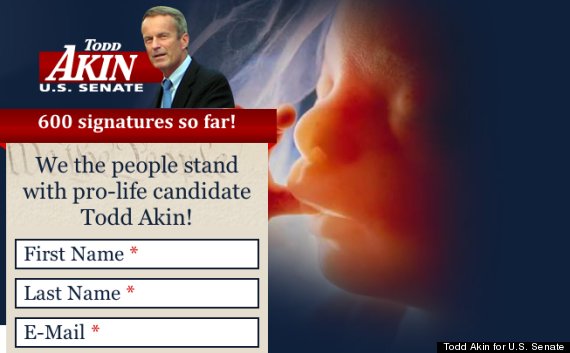 Although party leaders -- including Mitt Romney -- have called on him to leave the race, Akin says he will continue his bid against McCaskill.
BEFORE YOU GO
PHOTO GALLERY
Political Reaction To Akin 'Rape' Comments