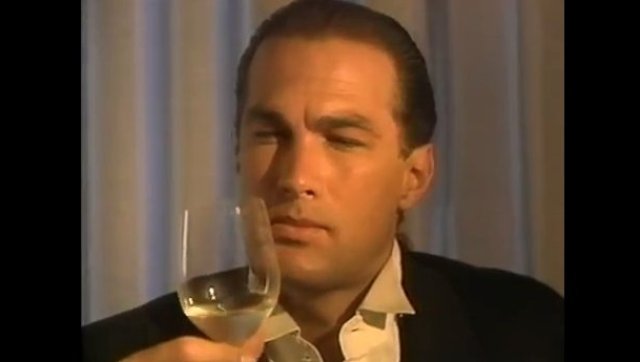 We could hardly believe our eyes when we started watching 1990's "The Celebrity Guide to Wine." It's not that we don't want wine tips from Steven Seagal and Whoopi Goldberg, it's just that we weren't expecting to get them. And Whoopi, we certainly weren't expecting to get wine tips from you while you casually stand next to your car, as if that is a totally normal thing to do.
In addition to Seagal and Goldberg, this oddly star-studded special also includes Dudley Moore, Herbie Hancock, Kelly LeBrock, Shelley Hack, Robert Loggia and Peter Weller. This madness was directed by Daniel Helfgott, who went on to direct "The Celebrity Guide to Entertaining," starring Ed Begley Jr. and Jackie Collins (please, someone, put this on the internet).
Hosted by Spago's then Maitre d'Hotel Bernard Erpicum, there are so many gems in this video that it's hard to pick just one favorite moment, so here are a few:
The video really starts out with a bang when a caterer takes offense to Robert Loggia's wine service. As Cracked put it: "You suddenly won't feel so bad after you see Robert friggin' Loggia offend everybody by putting ice into red wine, which causes a caterer to... uh, have a meltdown and plow through his table."
Later in the video, Dudley Moore tries to convince us all that he doesn't know his way around a list of booze. Dudley -- you can't get famous for playing a notoriously drunk playboy and then try to pretend to order a "bottle of white" like a deer in the headlights.
"You know what goes good with crab?" Whoopi Goldberg asks us, while she rummages through her trunk-full of wine, "Sauvignon Blanc."
All this happens way before you get to Steven Seagal's unbearably uncomfortable encounter with then-wife Kelly LeBrock and their wine-opening tutorial. "Was that as good for you as it was for me?" she asks, as she finishes pouring the wine. We didn't hear the answer because we all passed out instantaneously.
This incredible special is just over 55 minutes of bizarre, campy gold (we're all busy, so if you can't commit yourself to the full viewing, Inside Scoop SF has a spot-on breakdown of the must-see moments).
In case you were concerned [spoiler alert!] there is a brief anti-drunk-driving PSA at the end by Robo-Cop himself, Peter Weller. Because you wouldn't want to be pulled over while intoxicated, "even on wine."
BEFORE YOU GO
PHOTO GALLERY
Mistakes Wine Drinkers Make