An art battle has been brewing over the past twenty years, centered on a small geometric painting purported to be the last work of American artist Jackson Pollock. Titled "Red, Black & Silver," the painting is owned by Pollock's former mistress, Ruth Kligman, who claims that the piece was produced in 1956, months before the artist's death in the same year. But in a dramatic tug-of-war between Kligman and the Pollock-Krasner Foundation, the potential masterpiece has been the object of doubt, and art experts are still unable to validate its authenticity.
This year, in the wake of Kligman's death and the run-up to Pollock's 100th birthday, the still-unauthenticated painting is set for auction courtesy of Phillips de Pury in New York City. In a recent Vanity Fair article released online today, Leslie M. Blume explores the ongoing controversy surrounding Pollock's supposed last work, detailing Kligman's intimate relationship with the famed painter and the various sides of the "Red, Black & Silver" saga:
"'Red, Black & Silver' is the last painting ever created by Jackson Pollock. That is, if Ruth Kligman, Pollock's mistress during the last year of the artist's life, is to be believed. Famous in art circles -- or notorious, depending on whom you ask -- Kligman claimed that Pollock created the small canvas as a love gift to her just weeks before the car crash that killed him, in 1956. Kligman had been in the car, too; she was the accident's sole survivor. The nickname 'death-car girl,' bestowed upon her by poet Frank O'Hara, haunted her for the rest of her life."
Here's the image of the contested painting, which was included on the cover of Kligman's tell-all memoir: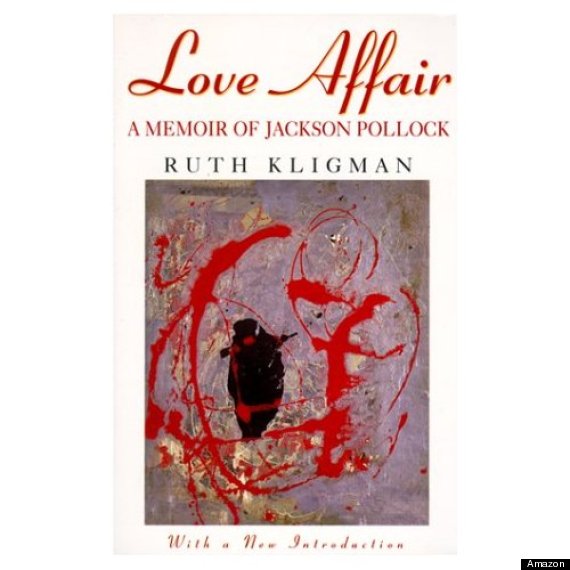 You can read more about Kligman and "Red, Black & Silver" over at Vanity Fair. BEFORE YOU GO