Food Informants is a week-in-the-life series profiling fascinating people in the food world. We hope it will give you a first-hand look at the many different corners of the food industry. Know someone who would make a great Food Informant? Tell us why.
Rudy Marchesi assumed ownership of Montinore Estates in 2006, but has had a hand in the estate since 1992 when he lead the fine wine department of the distribution house of Allied Beverage. In 1998, he began consulting on Montinore's vineyard management, winemaking and marketing. He became Vice President of Operations in 2001 and President in 2003. Marchesi obtained the Demeter Biodynamic certificate in 2008, which certifies wines based on the strict principles of biodynamic farming. This process involves an organic approach that treats the soil with fermented manure, minerals and herbs.
Read more about how Rudy adheres to a biodynamic calendar for both his home vineyard and his company's vineyard.
Monday August 6
6am: Started today on Vashon Island south of Seattle where my life-long best buddy has started a small vineyard/winery producing Pinot Noir in the Puget Sound area. He had his annual release party and I couldn't miss it. He makes a killer Crémant that sells out immediately and a really delicious Pinot. Food, great wine and old friends.
We caught the first ferry off the island and headed south to the Willamette Valley. Stopped at my daughter's house in Portland for a quick meeting. Kristin is the GM at Montinore and just had her first baby (my first grandchild!!) three months ago so works many days from home. We will be releasing our new 2011 Pinot Noir the first week of September so we have to make sure pricing is current and correct in all states before we ship. Selling wine in the U.S. is like selling to 50 different countries because of our arcane alcohol laws so it gets complicated sometimes.
11am: Arrived at the winery late morning and went immediately out to the vineyard to check for sunburn. We had temperatures as high as 98F over the weekend and I was worried that some of the tender young clusters would burn in the afternoon sun. Looking through the most susceptible vineyard blocks I found almost no damage except in a young Pinot Noir block with a light leaf canopy and a lot of sun exposure. There we had some burn. The burned grapes stop developing and when they get to the fermenter they give off green, unripe tannins that can add a bitter quality to the wine. The burned clusters will have to be cut off before harvest. This will be a loss of 4 to 5 tons of Pinot (300+ cases of wine), not devastating but a heartbreak never the less.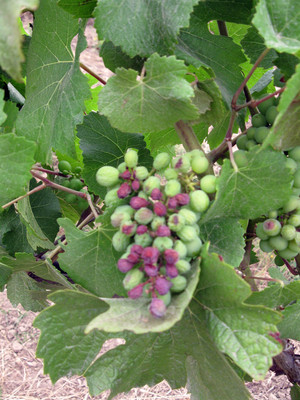 1pm: Back in the cellar things are progressing well -- pulling the Pinot out of the barrels it has been aging in since last harvest and blending the different vineyard lots for our Willamette Valley blend. The 2011 Pinots are surprisingly big for such a cool vintage. It goes to show that healthy vines can bring grapes to full maturity even in the coolest years if you just give them enough time.
Tuesday, August 7
5:30am: Up with the light, make my morning pot of yerba maté and walk around our home farm feeling the weather and observing the various plants we grow. I learn a lot about the general growing conditions by looking closely at the gesture and vibrancy of the plants and get a feel for how the growing season is going. So far so good this year.
6am: On the phone with Efren our vineyard manager. All together we farm 272 acres of wine grapes at four different sites and at times it's pretty hard to keep up especially when hand work is needed. Efren is great. He loves his works, cares deeply about the vineyards and is always looking for ways to improve our practices. Today we are trying to figure out how we can fit in our last Biodynamic horn silica spray and still get our last organic sulfur spray for mildew applied on schedule. We have eight tractors and it seems like it's never enough.
7:30am: Su and I sit down to a quick breakfast. This time of year breakfast is whatever we can grab from the garden. This morning it's a quick sauté of Ronde de Nice summer squash and white onion with fresh sage and a sprinkle of black truffle salt; served with a slice of our homemade havarti, it's a treat. After breakfast I need to get to the winery so Su has volunteered to do our last vineyard spray of the season here at home. I've been putting it off during this heat spell so I'm glad to get it done but she has never sprayed before. She's a quick study and after a short lesson she is coursing the vineyard rows like a seasoned farmer. Our home vineyard is tiny at 1 1/2 acres, more of an experimental plot. I like having vines close to the house where I can walk and observe in quiet free moments. It helps me stay in touch with the progress of the vintage and any problems that may be developing in our larger vineyards.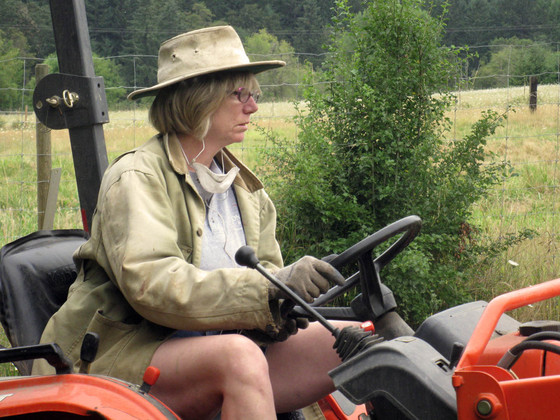 10am: Every Tuesday we have a winery staff meeting. There are only 10 of us who keep this operation moving but coordination is essential. The winery business is a three legged stool of grape growing, winemaking and marketing all underpinned by good business practices. In these meetings we share what we are working on, the progress and planning of projects and gain a broader perspective and assistance for our individual tasks from our colleagues. In the flurry of trying to get all my work done I sometimes wonder if we can really afford to take the time for these meetings, but I always walk away very happy that we do.
1:30 pm: Today we have site inspections for two of our leased vineyards for LIVE (Low Input Viticulture and Enology -- a sustainable farming certification program). I have delegated the job of preparing our reports to Kevin. He is an engineer-turned-winemaker with a keen interest in viticulture who is suited to record keeping, filing reports and getting inspectors the information they need. I am a very "right brain" type of person and can happily spend hours discussing and thinking through projects and processes but loathe being tied to a desk filling out forms. We are a balanced team in the vineyard. The inspections go well and both sites are approved for "LIVE" certification. It's like organic certification but takes into consideration larger environmental and human sustainability considerations. I'm pleased and proud of our work at these vineyards.
5pm: Back to the home farm where Su and I take care of the simple tasks of feeding chickens, collecting eggs and moving irrigation around laced with moments of pure pleasure seeing the results of a season of work.
Wednesday, August 8
5:30am: Up with the light to an overcast sky and some humidity. Remind myself to see if there is any reoccurrence of powdery mildew in Pinot Noir. Busy day ahead so it's a quick breakfast of stir-fried zucchini topped with home cured Alaskan Salmon.
After checking the calendar to make sure it's an okay planting day we head to the winter garden to get some seeds in before heading to the winery. We planted broccoli rabe, spinach, bunching onions and cold hardy lettuce. Winters in the Willamette Valley are usually mild enough that we can keep hardy greens growing through the winter providing us with a steady stream of fresh vegetables. We have found that by eating only the vegetables we grow, that over the course of the year we eat a much wider range of vegetables and get much more creative in the kitchen. When you only have kale or chard to eat it gets pretty boring unless you mix up your recipes.
8:30am: Arrive at winery and after checking orders from east coast customers I head to the lab to go over soil test results with Kevin and make plans for grape cluster sampling to determine the size of this year's crop.
10am: Head down to the barrel cellar with Ben our red wine maker to taste through barrels of the 2011 vintage. He has chosen approximately 200 barrels as potentials for our reserve bottling so we taste through each one making notes to determine which ones would be best for the final blend. Of all the Pinot Noirs we make I enjoy putting this one together the most because it is usually blended from different blocks on the estate, each with its own unique character. We draw on elements of each one to create the most complete and interesting wine with the goal of finding a pleasing harmony of elegance and concentration of flavors. According to the Biodynamic calendar it is a "fruit day" and the wines do seem particularly expressive and easy to read. The process of tasting barrel after barrel, quietly focusing on aromas and flavors becomes almost a meditative practice. In the quiet of the cellar flooded by tastes and smells I'm reminded that I practice an art/craft that is thousands of years old and follow in the footsteps of so many talented winemakers.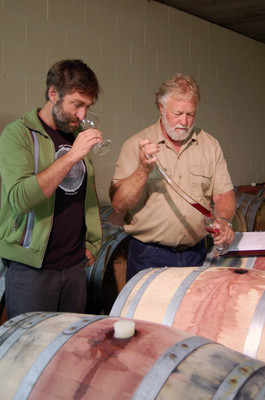 12:30pm: Home for a quiet lunch and siesta. Tasting wine for two and a half hours takes its toll!
2:30pm: Back at the winery for a meeting on verjus production. For the past two years we have taken a small portion of our grapes, usually Pinot Noir, that we would need to cut in order to balance the crop load, and pick it under ripe for verjus. This was an idea I came up with not knowing if the result would be any good or if anyone would buy it but it has turned out to be a fun success. It's very popular in Portland with chefs and bartenders and we have a great distributor that picks up and delivers a steady supply. It's not a big production and I wouldn't want it to ever interfere with wine production but it's fun and our customers love it so we will continue to make a few hundred cases a year We all seem to enjoy the process and the product.
5:30pm: Back to the home farm to check on irrigation and organic nutrient applications to our vegetable gardens. They can use a mid-season boost. A quiet dinner on the deck of fresh green beans sautéed with garlic, cucumber and celery salad with mint and white wine vinegar and some grilled cutlets. I found an old plum tree in a hedge row that I was clearing that produced delicious pink plums so we had them for dessert. We had enough time for playing piano and a movie and to bed at a reasonable hour.
Thursday, August 9
5:30am: Taking the day off from the winery to get some things done at our home farm. Today is the day we take our "meat" chickens to the slaughterhouse. Every year we raise 50 chicks until they hit about 6 pounds then take them to a tiny little family operation down by the coast where they are expertly slaughtered, cleaned and packaged for our freezer. We feed them a specially formulated feed of peas, barley, seaweed etc. with no genetically modified corn or soybeans. They run around and eat plants and bugs and in general have a healthy chicken life. When they finally get to our table the meat is firm and much more flavorful then anything I can buy in a store. So our day starts with the "chicken roundup," getting them in crates and loading up the truck.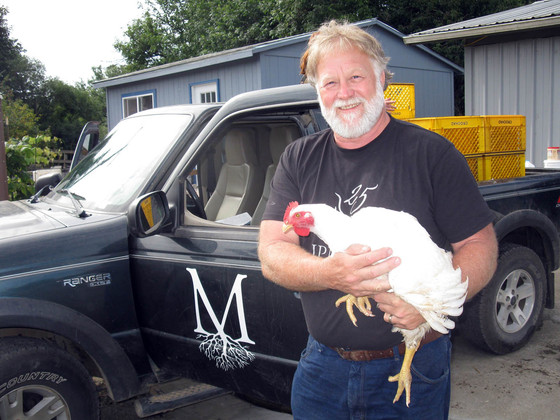 9:30am: We arrive at the slaughterhouse to be greeted by the owner's chatty 10-year-old daughter in rubber boots and apron ready to unload our birds. We have a free hour and a half before they are ready so we drive toward the coast to a favorite spot, the Otis Café, for a bite. The Otis Café is one of about five buildings that make up Otis, Oregon, a wide spot on the road to the coast. he café boasts homemade breads and pies and is never without a crowd waiting for a table. We found a spot at the counter and after considering the halibut sandwich or the salmon burger we decide to go light and have a bowl of gazpacho and strawberry rhubarb pie washed down with some strong black coffee.
1pm: Arrive back at the farm with a cooler full of dressed birds and a list of chores. After a quick lunch of garden greens and some Oregon Albacore that we can each year we get to work. I jump on the tractor and turn the compost piles layering old and new compost in the process. Compost is an essential part of biodynamic farming and the main source of nutrients added to our soils. It is enriched with small doses of specialized "starter composts" known as biodynamic preparations. They are made from things like chamomile, oak bark, nettle and other plants, then composted in very specific ways and added to the large compost piles to enrich them. The piles I'm working on today will be spread next spring.
3:30pm: I head out to the vineyard to mow between the rows for the last time this season. The grapevines are entering into what is called their "lag phase." This is when the vines shift their energy from growing canes and leaves to producing and ripening their fruit. I can see this same kind of shift in many of the plants both cultivated and wild. Growth is slowing and they are now putting all their energy into reproductive activity, that is, producing their seeds in whatever casing might be their style be it a seed hull or a piece of fruit. For me, being part of this annual cycle and engaging with the plants as a farmer deepens my world perspective and gives me a much greater awareness and appreciation for the magic and beauty of this thing we call Life.
7pm: We sit down to an early dinner tonight. I took a short break from mowing to put a chicken on the rotisserie so it could slow cook while I finished in the vineyard. We braised some cabbage with red wine vinegar and fennel seeds to go with the chicken along with a green salad and a nice bottle of '09 Pinot from the Eola Hills, a subsection of the Willamette Valley down near Salem, OR.
8:30pm: It was a little hard to pull ourselves from such a beautiful evening meal out on the deck but Su had picked a couple of big baskets full of tender French green beans so we spent an hour blanching and freezing them for this winter when they will be a most welcome addition to our table.
Friday, August 10
9:15am: My daughter Kristin, who manages all sales and marketing for our winery, and I meet with representatives of the company that markets our wine in the northeast and Midwest. I've been working with Bill Dendor, the founder of the company for almost 14 years and it's great to see him again. We spend all morning going over sales reports, projections, marketing plans and general brainstorming. This is my least favorite part of the winery business but without it I wouldn't be able to continue to grow grapes and make wine so I throw myself wholeheartedly into the task.
Noon: We break for lunch and head into town to a great little place, 1910 Main, owned by our former winery chef and hospitality manager. She gives us a great table out on the patio and we settle in for a nice Oregon summer lunch of fresh greens, poached salmon finished off with fresh berries.
1:30pm: Back at the winery and out to the vineyards for a walking tour with the Chicago folks who haven't been here before. We walk through various vineyard blocks for an hour and a half discussing all aspects of vine growth, fruit development and the impending harvest. I guess I got a little carried away with the vineyard tour but I just love being in vineyards especially at this time of year, there is just so much going on and every vine has a story.
3:30pm: Back to the cellar I turn our guests over to Ben our red wine maker for some barrel sampling while I go to cut some of my homemade cheeses and cured meats to have while tasting through the wines. I really enjoy making cheese and cured meats, it's another fermentation/food preservation process, not unlike winemaking and our friends and winery guests really enjoy it. After tasting through our current releases we all take a break before dinner.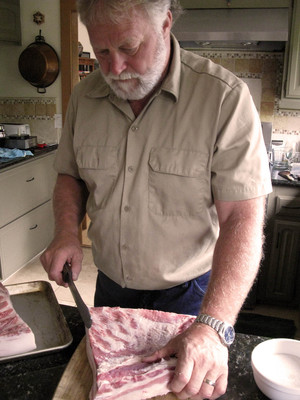 5pm: We drive down to the little town of Carlton for a little sampling of some other local wines at The Horse Radish wine bar and then across the street to Cuvee, a great little restaurant started by a very talented chef from Alsace almost 10 years ago. Gilbert, the chef owner is in and out of the kitchen, joking with patrons in between plating up some fantastic dishes. We got into a discussion about a delicious pâté he served and he shared with me his recipe so I can try it out with my chicken livers. Score!! There are only about six items on the menu and it doesn't change much but it's all local and expertly prepared. We brought more wine that we possibly needed but it's fun to try dishes with different wines. The highlight of the evening was a 1994 Montinore Winemaker's Reserve that I pulled out of the library. It was amazingly youthful and vibrant but with the complexity of long bottle aging, a real treat.
7:30pm: Back to the winery where we enjoyed the first night of an outdoor performance of Shakespeare's "Much Ado About Nothing" put on by a local group, Willamette Shakespeare. It was a beautiful clear night and several hundred of us enjoyed a great performance while sipping on the fruits of our labor.
See more Food Informants below:
PHOTO GALLERY
Food Informants