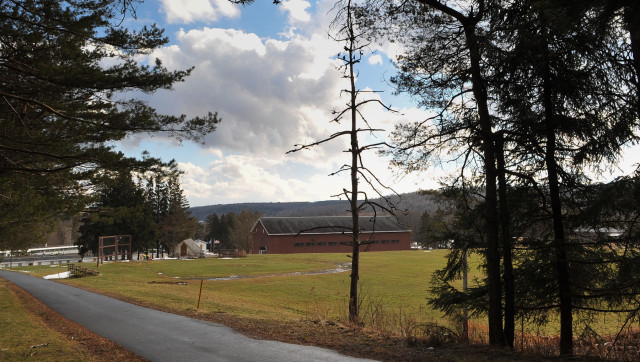 Looking for a place to detain about 260 people? You just might be in luck.
The Camp Georgetown Correctional Facility in Georgetown, New York is set to be auctioned next month for the minimum bid of just $390,000, according to a press release from the New York State Office of General Services. The facility has many fine amenities for the aspiring jailor, including 38 buildings, an onsite water distribution system and two basketball gyms.
The prison is one of seven New York detention centers the state has closed over the past year as a result of a dwindling prison population. The anticipated closings will save New York taxpayers $184 million over the next two years, according to governor Andrew Cuomo, the New York Post reports. Holding only one-third of its capacity in its final year, Georgetown cost $6.5 million annually to operate.
But state officials may not be so optimistic about the potential of selling the property, which the state has primarily pitched to hunting groups thanks to its its proximity to 98,000 acres of state-forest land. The state still has yet to sell Camp Gabriels Correctional Facility, which went on sale in 2010, despite interest from one Native American group.
Other states, however, have been successful at unloading prisons thanks to for-profit prison companies. In 2011, Ohio became the first state to sell a correctional facility to a private prison company. Since then Corrections Corporation of America, a for-profit prison company, has offered to buy prisons in 48 states, The Huffington Post reports.
(h/t: The Daily Mail)
Check out the Camp Georgetown Correctional Facility below:
PHOTO GALLERY
Prison For Sale
BEFORE YOU GO