The Jolie-Pitt family continues to make waves in the film world. Just one day after Disney announced that Brad Pitt's daughter Vivienne Jolie-Pitt will star alongside Angelina Jolie in "Maleficent," The Weinstein Company drops a stunning poster for "Killing Them Softly."
The promotional image is premiering exclusively on HuffPost Entertainment and Moviefone. An earlier teaser poster featured a stylized gun as part of a face.
The highly lauded Brad Pitt, Andrew Dominik ("The Assassination of Jesse James") collaboration scorched Cannes, where many read the movie as a harsh critique of American capitalism. After a number of writers wondered if the film was meant as a takedown of Obama's administration (the president's famous speech at the 2008 Democratic National Convention opens the movie, which goes on to get quite dark), Pitt explained that the inclusion of the speech should be seen as "a real expression of hope."
In this modern-times rework of George V. Higgins' 1974 novel, Pitt stars as Jackie Cogan, a well-worn enforcer who finds himself in Boston with a mission to kill small-time crooks.
It certainly looks like a promising few months for TWC. Aside from "Killing Them Softly," the studio is also releasing Paul Thomas Anderson's "The Master" and Quentin Tarantino's "DJango Unchained." All three movies come with their cult followings and plenty of natural buzz, so things aren't looking to shabby from where Harvey Weinstein is sitting.
"Killing Them Softly" barrels into theaters on Oct. 19. Watch the trailer above. Poster and stills below.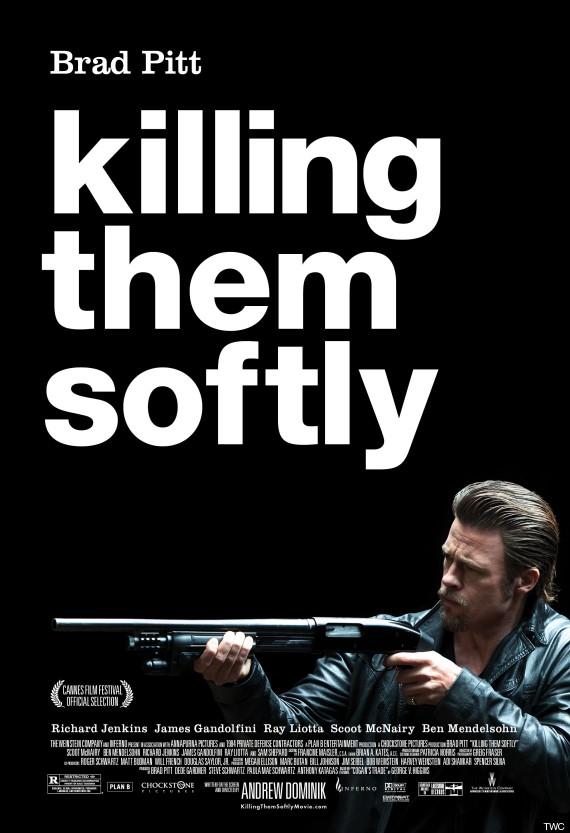 PHOTO GALLERY
'Killing Them Softly': Photos From the Movie
BEFORE YOU GO