Not long ago, we reported on Dr Seuss-themed weddings. Book mad Stefanie Kiper and Marc Schmidt have created their own literary theme for their forthcoming nuptials in Newfields, NH on September 22nd.
There will be place mats made from pages of books (discarded ones, we hope) containing love stories, including "Emma," "Jane Eyre" and "Bridget Jones's Diary." Kiper, Events Coordinator at Water Street Bookstore in Exeter, NH adds, "The cake will be displayed on a pedestal made of books. Our centerpieces are these fabulous open book succulent planters. Our guest book is an old accounting ledger book - not terribly literary but very vintage and sweet."
As if that wasn't enough, check out their amazing book spine poetry wedding invite, below, photographed by Water Street bookseller Eva Skewes.
Kiber says, "I was most excited about getting in Don Robertson's book "The Greatest Thing Since Sliced Bread," because reading it with my dad as a kid is one of my favorite childhood memories. Now that I'm thinking of it, I missed a great opportunity with Wilkie Collins's "The Woman in White!""
The poem reads:
The marriage plot/the history of us/call it what you want/lucky break/paradise/wonderland/the greatest thing since sliced bread./Everything happens today/the rehearsal/the wedding/take this man/take me home/crossing to safety/a long and happy life/at last.

Check it out: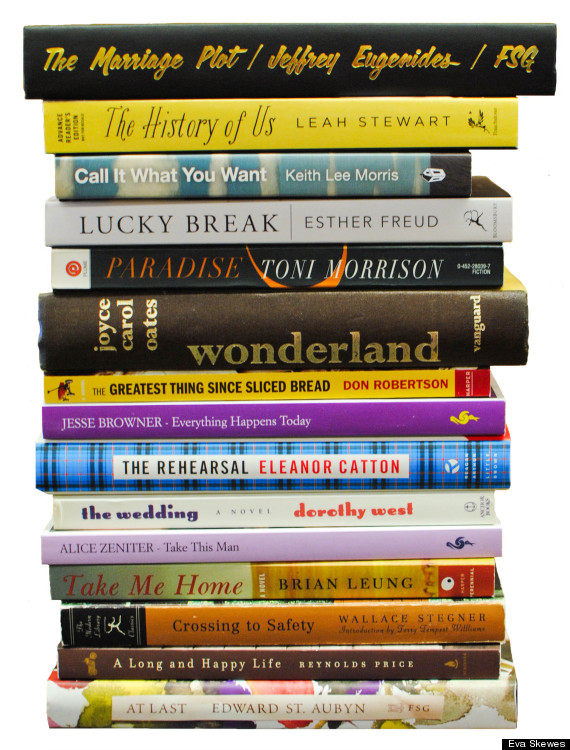 (via Shelf Awareness)
BEFORE YOU GO
PHOTO GALLERY
Best Fall 2012 Books