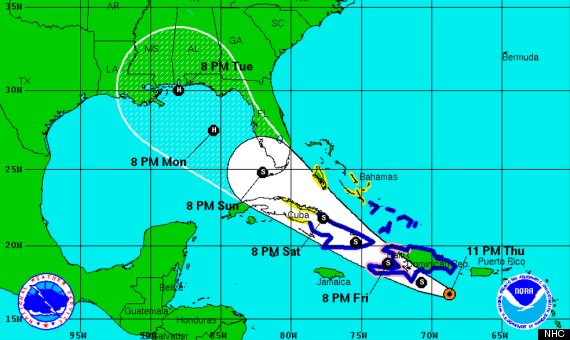 Tropical Storm Isaac strengthened only slightly Thursday night as its projected path moved further west into the Gulf of Mexico. The storm is currently bearing down on the Dominican Republic and Haiti.
Forecasters with the National Hurricane Center said late Thursday night that Isaac, which is hampered by a loosely defined inner core, would strengthen if it remained over water -- but that projected interactions with Hispaniola and Cuba should now keep it from intensifying into a hurricane until it reaches the warm waters of the Florida Straits or Gulf of Mexico.
While the storm's possible future impact on Florida and the planned Republican National Convention in Tampa is still up in the air as of the NHC's 11 p.m. advisory, only the south and western portions of the Sunshine State remain inside the 5-day "cone of uncertainty."
"There is significant uncertainty in tropical cyclone intensity predictions at 3-5 days," the NHC warned, adding that "it is important not to focus on the exact track because of forecast uncertainties and the fact that Isaac has a large area of tropical storm force winds associated with it."
Those winds now extend up to 185 miles from Isaac's center, which was about 145 miles south-southeast of Santo Domingo late Thursday night. Forecasters said the storm was churning north-northwest near 18 mph, with maximum sustained winds of 45 mph.
Isaac is expected to move near or over the Dominican Republic and Haiti on Friday. Though it may no longer strike Hispaniola as a hurricane, heavy rain can trigger mudslides that threaten some of the hundreds of thousands
of Haitians who remain in tents after the devastating earthquake of January 2010.
Floridians should keep an eye on updates, said Governor Rick Scott.
"I'm urging everyone across the state to monitor the storm track, and use the next several days to prepare for a potential storm," Scott said in a statement. "As we know, storms this far from land are still unpredictable and everyone should be vigilant and prepared."
This post will be updated throughout the day as NHC forecasts are released.