Got a success story of your own? Send it to us at success.stories@huffingtonpost.com and you could be featured on the site!
Name: Chris Simpson
Age: 37
Height: 5'10"
Before Weight: 335 pounds
How I Gained It: I have always been overweight. I was a chunky kid, even though I rode my bike a lot. As an adult, everything just intensified. I didn't get much physical activity at all, and my eating habits were horrible. I ate fatty and sugary foods, and never tracked a bit of it.
Breaking Point: I was participating in a research study about diabetes when it hit me that I was at an extreme risk of contracting the disease. I saw what people who had diabetes went through, and realized that I did not want to live my life like that. This also made me think about the impact this would have on my family, especially my 4-year-old son. I also realized that I may not be there for him if I don't change my ways. So I did.
How I Lost It: The first thing I did was go to a fitness evaluation at my work gym. I am extremely lucky to have access to a free gym that is right next door to my office.
I got the evaluation, and a starting fitness plan. That plan included walking on a treadmill, and light resistance training on machines.
I also began to track my diet and change to whole foods, eliminating sugary drinks and fast food. I took small steps at first; I think that is key. I also blog about my progress.
After about eight months and 30 pounds, I began to stall out, but I kept up the resolve, and decided something just wasn't working. I discovered free weights, and that is when everything changed. I now do little to no cardio (and have been that way since November 2011). I do only compound weight-training movements with accessory lifts on occasion. I use the Big Three (Squat, Deadlift and Bench), along with the overhead press three days a week for an hour each day.
The most effective thing is tracking every single thing that I eat all day using MyFitnessPal. I eat fruits and veggies, eggs, fish, take vitamins and fish oil. I also practice intermittent fasting.
Now, I can actually participate in physical activity with my son without feeling like I am going to pass out! My blood pressure is normal and so is my blood sugar. I also have an excellent resting pulse rate, and much more muscle mass. Luckily I never had a lot of problems with cholesterol or blood sugar. Food no longer has control over me.
I can fit into "normal" clothes now and look a lot better in them. I started out in a men's XXXL shirt and size 50 waist in pants. I can now fit into a large shirt and about a 42 waist. I am still losing, and intend to get to about 10 percent body fat. I am not over the hump yet. But I want to help people to change their lives for the better, and would like to show people that there is hope out there!
Current Weight: 238 pounds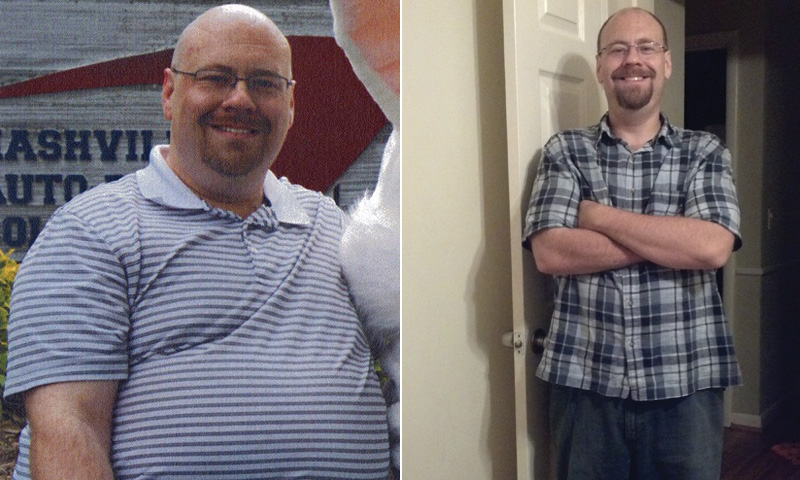 The Huffington Post publishes photographs as they are submitted to us by our readers.
Check out more of our inspiring weight loss stories below:
PHOTO GALLERY
Weight Loss Success Stories
For more on weight loss, click here.