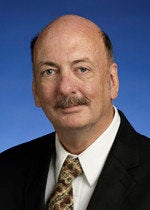 A Republican state senator in Tennessee has been stripped of a key subcommittee chairmanship after sending an offensive email about the legislative Black Caucus.
On Wednesday evening, Sen. Jim Summerville (R-Dickson) sent an email to Rep. Barbara Cooper (D-Memphis) saying he did "not give a rat's a--" what the Black Caucus thought of a report released by his subcommittee regarding Tennessee State University. Summerville apparently sent his message from a private Prodigy email account.
WRCBTV.com reported that Summerville subsequently said he believes he should have used different wording in his email to Cooper, but he continued to stand by his remark:
Earlier Summerville told reporters in a brief interview that perhaps he should have said he didn't give a "rat's posterior" about the black caucus concerns, rather than the cruder word he used in his one-line email sent this week.

Asked why he so rudely dismissed the black caucus response to hearings about a grading dispute at Tennessee State University, Summerville said "the matter speaks for itself."
The email responded to a Black Caucus report saying that the subcommittee was inaccurate to conclude that Tennessee State University had given African-American students incompletes in order to keep state funding. A new state higher education funding formula bases funding on total graduates instead of total student headcount.
Sen. Dolores Gresham (R-Sommerville), the education committee chairwoman, announced Summerville's dismissal from the subcommittee post on Thursday, the Tennessean reported. Summerville resigned from the Education Committee on Friday but did not give a reason in a letter to Lt. Gov. Ron Ramsey (R).
Summerville, an instructor at Austin Peay State University, was elected to the Senate in 2010. He is the author of five books including "Educating Black Doctors: A History of Meharry Medical College" and "With Kennedy and Other Stories." He is also the founder of the Theodore Association Police Award for Nashville and Middle Tennessee.