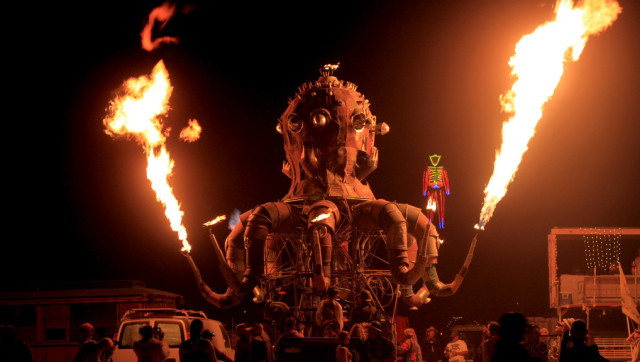 It's time to burn the man again.
As many as 50,000 burners are expected to flock to this year's Burning Man festival in the Black Rock Desert in northern Nevada, running Aug. 27 to Sept. 3. And behind San Francisco, LA is home to the second-largest Burning Man community, LAist reports. LA hippies--the epitomy of counterculture--are scrambling to get their goggles, headlamps and tripped-out costumes ready as we speak.
But rich, beautiful people (what LA's more known for, let's face it) like to play in the desert too... if there's air conditioning. Elon Musk, co-founder of PayPal and CEO of electric-car maker Tesla Motors is one of these people.
Last year, Musk, who lives in Bel-Air, paid for a fancy set-up of eight recreational vehicles and trailers stocked with food, linens, groceries and other goodies, the Wall Street Journal reported. The $5,000-to-$10,000 RV service includes "help" who empty septic tanks and maintain the vehicles' electricity, refrigeration, air conditioning, televisions, DVD players and other luxuries.
Other LA one percenters who have been known to show up for some of the artsy love include celebrities Daryl Hannah, Courtney Cox, David Arquette, Sting, Robin Williams, and Joan Baez, according to LAist.
Post-Burning Man, LA will host its 10th annual Burning Man Decompression event Oct. 13-14 that will go all the way until sunrise in downtown's State Historical Park.
Oh, and if you need a ride to the Playa, there's a Ride Share board, of course. May your journey be transcendent.
Until the 2012 magic begins, check out photos from last year's pop-up playground:
PHOTO GALLERY
Burning Man
BEFORE YOU GO