 See the image below (WARNING: it is graphic)
Just after 9:00 a.m., a fired employee shot his former colleague to death near the Empire State Building in New York City, sending local and cable news networks into rolling coverage of the devastating event. Eight additional individuals were also hit by bullets. NYPD officers who were on site at the Empire State Building shot the gunman.
The Times posted a shocking image of a victim lying on the sidewalk in a river of blood. It seemed to immediately raise eyebrows. Some readers took to Twitter to question the editorial choice and criticize the Times for placing such a graphic photo on the website's front page. Others called it unnecessary, "insensitive and lacking judgment."
Blogger Jim Romenesko reached out to the paper for comment. The Times wrote that it understood "why many people found [the image] jarring," but that it was a "newsworthy photograph."
The Times has not shied away from leading with difficult photographs in the past. Last October, the paper published an image of a starving Somali child in a Mogadishu hospital on the front page above the fold, and defended its editorial decision.
The Times reportedly removed the image after a period of time, but then reinstated it on page. The paper has since moved the graphic lead photograph to the fourth image in a slideshow on the site's front page, a change that some made some readers express their appreciation.
Do you think the Times should have posted the following lead photograph? Tell us in our poll below the image.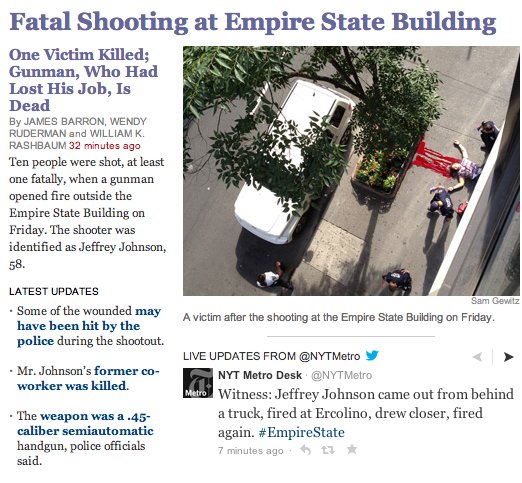 BEFORE YOU GO
PHOTO GALLERY
Empire State Building Shooting