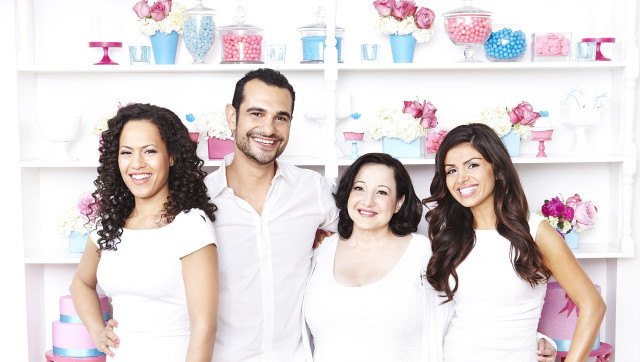 If you've ever wondered how to make a mouth-watering keyboard or an edible crime scene, then "SugarStars" is the show for you.
Of course, there's a lot more to Food Network Canada's newest show than just incredibly elaborate sweet tables. It follows the four fun, outrageous (and remarkably photogenic) friends behind the high-end Rosedale event and lifestyle boutique Petite & Sweet: Creative Director Elle Daftarian, Event and Table Stylist Caspar Haydar, Cake Decorator Yolanda Gampp and Shop Assistant Antonella Grillone.
The fun-loving team tackles an array of tricky jobs throughout the season, preparing intricate sweet tables for everything from chi-chi children's birthday parties to a "Game of Thrones" window display to a personalized spread for New Kids on the Block heartthrob Jordan Knight.
The four SugarStars are all naturals in front of the camera. They have a family-like dynamic, with plenty of good-natured bickering and playful shenanigans. That, along with their stylish wardrobes, makes them almost reminiscent of the Kardashians (that is, if the Kardashians actually, y'know, worked).
Earlier this month, we had a chance to chat with the SugarStars at their impeccably decorated boutique on a quiet Rosedale street. (And yes, we took the opportunity to sample one of their amazing sweet tables. They taste even better than they look!)
While we were there, we dug up 10 deliciously fun facts about "SugarStars" to help you gear up for the show's premiere.
1. Yolanda baked Elle's wedding cake 10 years ago. That's how the two long-time friends first met.
2. Caspar is Australian. He and Elle met in Vancouver through mutual friends, and they founded an event company together about five years ago.
3. Antonella is the wild card. The mischievous-yet-sweet assistant joined the company about two years ago.

4. They're always prepared for mishaps. "We always have a plan B," says Elle. Part of the fun of the show is watching the team think on their feet when things go wrong -- like when the trunk breaks off of their elephant centerpiece.
5. Yolanda and Elle could hardly suppress their glee when they met their crush, Jordan Knight. (Yes, ladies, he makes an appearance on the show.) "We were like little girls," says Elle. Even Caspar was excited. "I wanted to be him when I was younger!" he says.
6. Amid the scramble to deliver perfect sweet tables within super-tight deadlines, the SugarStars often take a moment to explain how you can pull off similar details at home. "You'll see a lot of detail-oriented stuff. A lot of finishing touches," says Yolanda.
7. You'll get to see them create everything from a sweet table in a skateboarding half-pipe for a 10-year-old's birthday party to a spread for the Crime Writers of Canada Awards, which featured a human heart cake. "We do a lot of research for each table," says Caspar.
8. It took them a while to get used to having cameras around, but now they don't even notice it. "I learned to wear Spanx at all times," says Antonella, laughing.
9. It's not unusual for the team to have really late nights -- or even pull all-nighters. That's when they get the silliest, says Elle, which helps relieve the stress of impending deadlines.
10. When it comes to making a show-stopping table of your own, it's all about the details. "Macaroons are a good dessert for manipulating color," advises Yolanda. For corporate events, Elle suggests integrating company logos into the table subtly by wrapping chocolate bars with logo wrappers. "There are so many little things, but it's really simple to make things look pretty," says Elle.
"SugarStars" premieres on Food Network Canada on Monday, August 27 at 10 p.m. ET/ 7 p.m. PT.

BEFORE YOU GO