How quickly the week goes by, no? This week we laughed (and maybe cried a little) over a botched restoration, drooled over unbelievably detailed drawings and watched way too many Labyrinth YouTube videos in anticipation of Bowie's next big move. Scroll down for all the juicy details.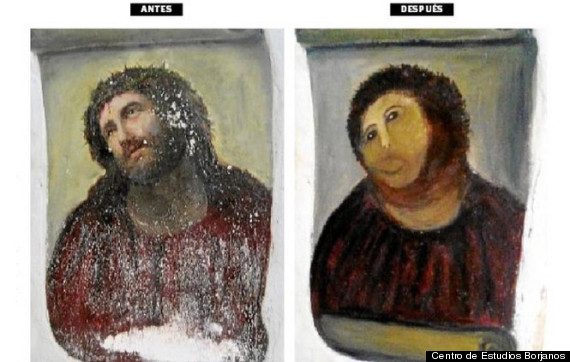 We've always imagined the work of an art restoration to be a painstaking process involving highly-trained individuals crammed in the basement of a museum, slaving over old texts and using many, many tiny paint brushes. We certainly did not picture an elderly volunteer sneaking around in a church, haphazardly painting over a classical image of Jesus until he resembled less the son of God and more a furry, sci-fi creature.
The DIY project took place a couple of weeks ago at the the church of Santuario de Misericordia in Borja, Spain, when an elderly woman reportedly took it upon herself to repair a fresco by 19th century Spanish artist Elias Garcia Martinez. Replacing nearly all of Martinez's original brushstrokes, the woman's reimagination of Christ went horribly awry when she turned the detailed figure into what appears to be a featureless monster.As one HuffPost commenter put it, "It's Ewok Jesus!"
The bizarre gaffe has gone viral and now Beast Jesus devotees are looking to halt a restoration of the restoration. Oh, the internet.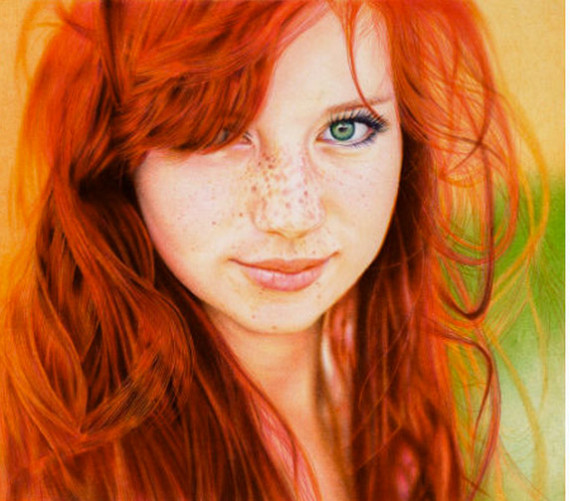 Look closely... it may be hard to hard to believe but the image above is actually a drawing made by Portugal-based attorney, Samuel Silva. Silva, who describes his art as a "hobby," uses standard ballpoint pens for many of his drawings, sometimes working on a piece for over 45 hours.
For his "Redhead Girl," based on the photograph by Russian photographer Kristina Taraina, he used seven different colored ballpoint pens which took some 30 hours to finish. To create such vibrant colors, Silva "cross hatches" in layers to give off the illusion of additional hues and depth. Click here to see more.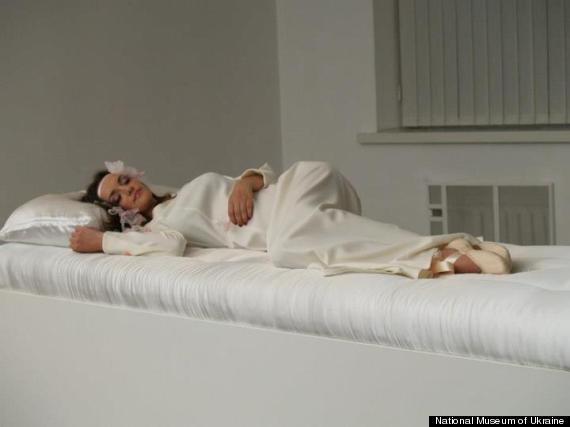 A group of women were slated to snooze in the central gallery of the National Art Museum of Ukraine this month, inviting worthy male suitors to try and wake the slumbering women with a single kiss. They're not under the spell of an evil witch or a poison apple however; instead, the ladies been recruited to participate in an art exhibit appropriately titled "Sleeping Beauty."
The fairy-tale inspired project was imagined by Ukrainian-Canadian artist Taras Polataiko. Influenced by an old story by Charles Perrault, where a young maiden is cursed to sleep for 100 years, only to be awakened by true love's kiss. In the spirit of this "once upon a time" literature, Polataiko cast several female volunteers as his performance beauties, tasked with "sleeping" in the Ukrainian museum for two hours at a time, every day from August 22nd until September 9th. Dressed in white and laid upon an elevated bed, the women lay motionless in the museum's space, awaiting a kiss from that one perfect museum patron.
But there's a serious legal catch to the piece. To participate in the exhibit, potential princes have to sign a contract that states, "If I kiss the Beauty and she opens her eyes, I agree to marry her." The female performers have also entered into an agreement that reads, "If I open my eyes while being kissed, I agree to marry the kisser." So unlike the chivalrous charmers of yore, these contemporary heroes are contractually bound to live happily ever after if their princess so chooses.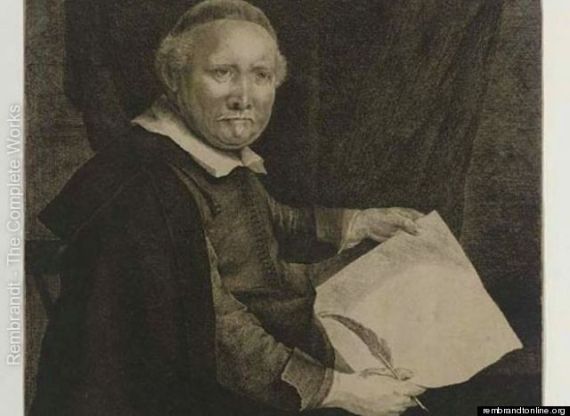 A Norwegian art gallery learned the hard way that the extra fee for postal insurance is worth the inconvenience when it lost a Rembrandt etching worth $8,600 this week.
According to the BBC, the Soli Brug Gallery originally bought a copy of one of the Dutch painter's etchings, titled "Lieven Willemsz, van Coppenol, Wiriting-Master," from a British dealer. After receiving notice that the purchase was available for pick-up at the post office, the gallery went to retrieve the package only to find that it had never actually arrived.
Reports of the incident place no blame on the artwork's dealer (who's name was not disclosed for confidentiality concerns); instead, the onus of responsibility is placed on the Norwegian gallery that used economy mail service to ship a 17th century work of art.

David Bowie diehards know there's more to the singer's filmography than "Labyrinth." But Bowie's side career -- which includes a starring turn in "Merry Christmas, Mr. Lawrence," and a Saturn-winning performance in "The Man Who Fell To Earth" -- hasn't exactly been canonized.
That changes this month when "Bowiefest" takes over London's Institute of Contemporary Arts. From Friday, Aug. 31 to Sunday, Sept. 2, the event billed as "the UK's first Bowie film festival" will celebrate the singer's 65th year with a slew of films, documentaries, DJs, and a moderated discussion with Woody Woodmansey, the drummer from Bowie's first band, The Spiders From Mars. (We may as well call this the summer of Bowie, coming on the heels of the news that he's helping curate his own exhibit at the Victoria and Albert Museum.)
Thanks for reading guys. Enjoy the weekend and check in with us on Monday.