Today is the birthday of famed female artist Dorothea Tanning. The Surrealist painter and wife of fellow artist Max Ernst would be 102 years if she were still alive today.
Tanning was born in Galesburg, Illinois in 1910, a town she described in her autobiography as "a place where you sat on the davenport and waited to grow up." She began her art career in nearby Chicago where she briefly studied art, but it was in New York that the dreamy painter would find her surrealist calling. She moved to the East Coast metropolis in 1936, and was soon wowed by that year's Museum of Modern Art show, "Fantastic Art, Dada, Surrealism."
Inspired by the heady exhibition, Tanning ventured to the art world capital of Paris only to find that many of her Surrealist heroes had fled Europe in the run-up to WWII. Back in Manhattan, she fell in line with the art greats in America, including her future husband Ernst. They met at a party in 1942 and reconnected when he visited her studio to ask her to participate in a female Surrealist art exhibit. A chess game and a week later, the two were living together, resulting in a 30-year long relationship. The couple was married in Hollywood in 1946, with Man Ray present.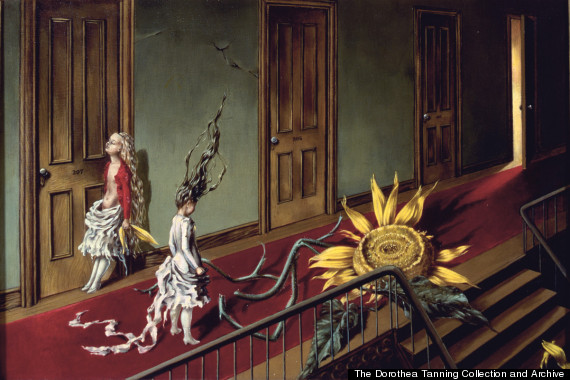 "Eine Kleine Nachtmusik," 1943, oil on canvas, 16 1/8 x 24 in., Tate Modern, London, image courtesy of The Dorothea Tanning Collection and Archive.
Following the show organized by Ernst, Tanning took part in her first solo exhibit in 1944 at the Julien Levy Gallery in New York, followed by another show at the same gallery in 1948. Tanning's work in the 1940s was characterized by pieces like "Birthday" and "Eine kleine Nachtmusik" -- paintings that depicted her striking figurative imaginations and otherworldly environments.
Tanning and her husband had by this time made a partial home in Sedona, Arizona, an oasis of animal and plant life rarely seen in the city, where they played host to guests like Henri Cartier-Bresson, Marcel Duchamp, and Dylon Thomas. But in 1957, the couple was forced to leave the states, journeying to France after Ernst was denied citizenship by McCarthy-era legislation. Throughout the 1960s and 1970s, Tanning showed regularly in New York, but only returned to the US when Ernst passed away in 1976.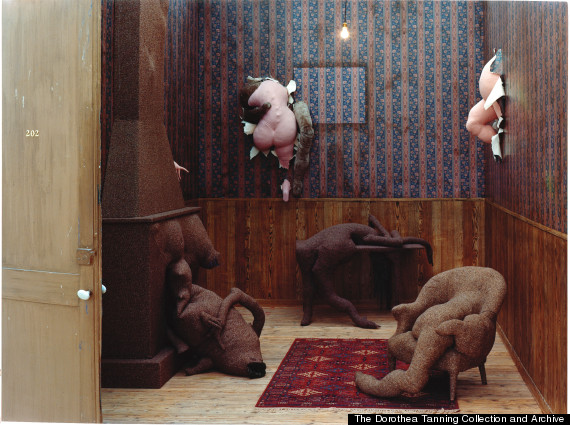 Hôtel du Pavot, Chambre 202 (Poppy Hotel, Room 202), 1970-73, fabric, wool, synthetic fur, cardboard, and Ping-Pong balls, 340 x 310 x 470 cm. Musée National d'Art Moderne, Centre Georges Pompidou, Paris., image courtesy of The Dorothea Tanning Collection and Archive.
Though the artist focused more heavily on her poetry at the end of her life, her impact on the Surrealist movement was never forgotten, and she continued to show her work in exhibitions. She died on January 31, 2012, at the age of 101, leaving behind an impressive body of work that remains housed in art havens around the world.
In honor of the anniversary of Dorothea Tanning's birth, we've created a slideshow of her great works, provided by The Dorothea Tanning Collection and Archive. Scroll the images and let us know what you think of the female Surrealist in the comments section.
PHOTO GALLERY
Happy Birthday, Dorothea Tanning!
BEFORE YOU GO