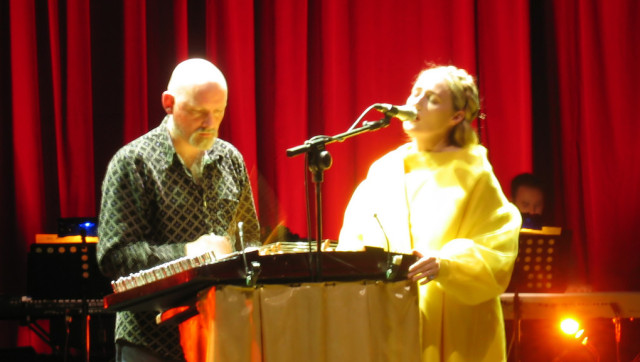 TOP 5 FOR MONDAY, AUGUST 27
1. Dead Can Dance At Wolf Trap
The world music sensation has been together over 30 years. They're currently touring their new album, "Anastasis," the first LP of new music since 1996. 8 p.m., all ages, $30 to $45
2. Susan Naimark At Busboys And Poets
The author of "The Education of a White Parent: Wrestling with Race and Opportunity in the Boston Public Schools" will read from her new book. Just in time for the new school year. 6:30 p.m., all ages, no cover
3. La-Ti-Do At Black Fox Lounge
A classy variety show on a Monday night. Singer and Helen Hayes Award winner Joshua Morgan headlines and spoken word performers Pages and Vijai Nathan will also grace the stage. 8 p.m., 21+, $10
4. Y La Bumba At The Hamilton
This Portland five-piece plays the type of world folk music that both Pitchfork readers and hippies can enjoy in harmony. 7:30 p.m., 21+, $17.50
5. "When Harry Met Sally" At Crystal Screen
The final night of the Crystal City outdoor film series concludes with this heart-warming tale of Billy Crystal annoying Meg Ryan until she gives up and gives in. We're joking. It's cute. A classic in the romantic comedy genre for multiple reasons. Dusk, all ages, no cover
TOP 5 FOR THE NEXT 5 DAYS
Tuesday, August 28
Razzle Dazzle Estate Sale at Mansion on O Street
The annual fundraiser begins today and runs for nine days. Pick up some antiques, art, knick-knacks and more. Monday might be crowded. Tuesday should have ample quality goods and a little more breathing room.
Wednesday, August 29
Sonic Circuits Fundraiser at CD Cellar
Sonic Circuits will be at the Atlas Performing Arts Center from September 28 to 30. The Atlas isn't cheap. Use this fundraiser as a good opportunity to gauge your interest in experimental music.
Thursday, August 30
thirst. at U St Music Hall
The lecture series/mixer celebrates their one-year anniversary with a night of professional wrestling exploration with experts Marissa Payne and Victor Rortvedt.
Friday, August 31
Annie and the Beekeepers at Millennium Stage
This NYC band plays original Americana tunes. They sound great in small rooms. It'll be exciting to see them on the massive Millenium Stage.
Saturday, September 1
Secret Cities, Sitali, The Mean Season at Comet Ping Pong
We love The Mean Season. If they're on a bill, we're interested. Since they're opening you can't lose. If you don't enjoy the other sounds, so what, you've already seen the band you wanted to see.

BEFORE YOU GO