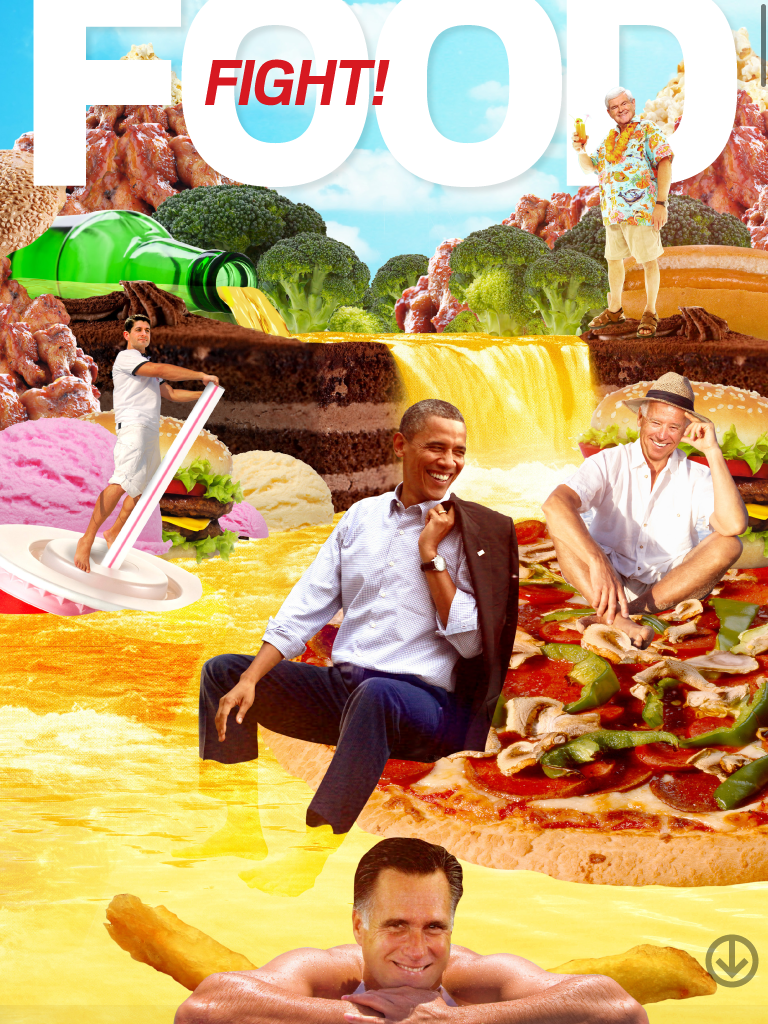 In a single 48-hour period in Ohio last month, Barack Obama made a show of ordering or accepting a staggering array of American comfort food and drink.

Bacon, eggs, grits, buffalo wings, ribs, sausage, pepperoni pizza, iced tea and Miller Lite were only the start. At a farm, the President purchased fresh peaches, strawberries, corn and cherries; at a bakery, it was a dozen chocolate chip cookies and an entire apple pie. At one café, Kozy Corners in the village of Oak Harbor, he was photographed sharing strawberry pie and whipped cream with a young boy.

"People have been commenting I need to gain some weight," Obama quipped at a campaign event in Poland, Ohio the next day. "I'm skinny but I'm tough."

The bus tours of Mitt Romney have so far been decidedly less Dionysian, but the Republican candidate, too, has turned up at suburban Chipotles and been seen spooning his fair share of sundaes at family ice cream parlors in the American heartland. Of course, with so many of these meals procured on-the-go, it's impossible to know how much of it is actually consumed—or by whom.

Not that it matters. Both candidates have diligently availed themselves of greasy diners, hamburger joints and bakeries, each stop a set in the meticulously scripted theater of a modern presidential campaign. Providing more than mere sustenance, such venues—along with their homespun, stick-in-your-gut victuals—can drip palatable flavor onto candidates otherwise known for bleached teeth and teleprompted wit. Food can help candidates emphasize talking points, appeal to specific groups of voters or simply appear human.

More efficiently than any speech or handshake, a cheeseburger, you might say, has the power to transform elite jet-setters and millionaire presidential hopefuls into ordinary Joes—if it's done right.
"I don't want to see politicians drink French wine by the glass or go to a tapas bar I can't afford," said Kris Lefler, 31, at a recent Romney rally in High Point, N.C. "Looking like a caveman while eating barbecue isn't acceptable either," she said.
CARNAL INSTINCTS
That potential voters are possessed of such opinions is not new, and food has long been incorporated into the signaling of American politics. As far back as the 18th century, Southern politicians threw rowdy election barbecues to "treat" voters to free rum, whisky and roasted pig in order to secure their support, according to Robert F. Moss, a food writer and author of the book Barbecue: The History of an American Institution. At the all-day outdoor parties, attended by hundreds or thousands traveling on horseback, candidates jumped on literal tree stumps to give speeches. During the mid-19th century, politicians such as Andrew Jackson used the events to curry favor with rural, uneducated farmers recently awarded suffrage.
Today, barbecue joints still sit alongside diners and ice cream parlors on the shrine of populist eateries that politicians worship. If the 24-hour diner symbolizes working class prosperity and industriousness, the red meat of barbecue roars with carnal instinct.
Both Obama and Lyndon B. Johnson have used military barbecues to present themselves as gutsy and approachable commanders and chiefs in times of war, according to Andrew Warnes, a reader in American Studies at the University of Leeds in West Yorkshire, England. "The sheer meatiness of a barbecue feast can help create the image of someone who doesn't mind getting his hands dirty or blanch at the sight of blood," he said.
The descendants of barbecues—campaign food stops—are decidedly more sober than their pre-television antecedents. Only recently did Barack Obama begin incorporating regular beer-drinking sessions into his trips. The strategy shows he is "of a different generation than past presidents and a person who allows himself to indulge," according to Josh King, former director of production of presidential events for Bill Clinton, noting that neither Bush nor Clinton drank in public.
"FOUR MORE BEERS!"
At a Knoxville, Iowa, coffee shop on August 14, the President handed a local man a bottle of his own White House homebrew, revealing that he takes it with him on his campaign bus. The previous day at the Iowa state fair, Obama stopped in the Bud Light tent and offered to buy a round as members of the crowd chanted "Four More Beers!" Like scores of other politicians—including Romney the year before—Obama also devoured one of the fair's trademark pork chops on a stick.
"When he first offered to get me a beer I was thinking, 'How many people does this guy meet every day? 1,000?'" said Brad Magerkurth, 42, the brand manager for Artisan Beer Company who Obama met at the Knoxville coffee shop. "But it's cool he can still relate to people on a basic level ... Beer brings people together."
A beer routine, along with stops at greasy spoon diners and burger joints, has also arguably helped Obama quell whispers of elitism and blur memories of his comment about the price of Whole Foods arugula in 2007. While American beer comes in elegant varieties—such as the Goose Island 312 that Obama once gave British Prime Minister David Cameron—it also works as an equalizer, a form of relaxation beloved by all classes and ages.
"[Beer's] post-Prohibition status as an alternative not just to strong liquor but also to the stiff Puritanism of total abstinence is now being harnessed in interesting ways by Obama's campaign team," said Warnes. "They're making insinuations not just along the lines that Mitt Romney might be a bit aloof, but also that the Tea Party might be prim and proper and uneasy with the simple, affordable and harmless pleasures of ordinary American life."
Of course, for some, the act of drinking a beer is less cool than it is slothly or indulgent, criticisms the President would likely want to avoid in any context. When news of the homebrew first surfaced last year, White House staff noted that the Obamas themselves—and not the American taxpayers—were footing the bill.
If Obama's current drinking strategy taps into the classic American desire to indulge, Romney's food habits are awakening an even-older striving towards chaste virtue. At a Father's Day pancake breakfast Romney hosted in June in Brunswick, Ohio, he, his wife, two of their sons and a few grandchildren served complementary pancakes and syrup to a crowd of 3,000 people. Having waited outside in the pouring rain all morning, many in the soggy crowd looked like they could have used a spike of whisky in their coffee. Romney held similar pancake events in Milwaukee, Wis., and Snellville, Ga., earlier this year.
Romney, a practicing Mormon, eschews coffee as he does alcohol, though he recently sampled coffee-flavored ice cream at a campaign event in Nantucket. The former Massachusetts governor's favorite type of restaurant stop this summer was unquestionably the ice cream parlor. Family-friendly and harkening back to simpler times, the five ice cream parlors that Romney was photographed visiting highlighted two of his favorite talking points about himself: his five children and his marriage of 43 years.
Romney has also been more restrained in his number of restaurant stops. While both candidates have each taken two official bus tours through swing states since Romney obtained enough delegates to secure the nomination in May, Obama has appeared at 21 food-related stops—from local farms to sports bars—compared to Romney's 18. Many of the President's stops have been "off the records," or unannounced stops at local businesses that are not open to the public. Named so because they are not included in a candidate's official schedule, "off the records" are less scripted than rallies and speeches, though business owners that pose with candidates still are carefully selected and rigorously screened by staffers and secret service.
CORN DOGS AND FAUX PAS
But moments of unscripted interaction—and eating—are also risky, said Greg Jenkins, former director of scheduling and advance for George W. Bush. A candidate could end up asking for silverware for a slice of pizza or biting into a corn dog from an unfortunate angle, as Michele Bachmann did last year. Today, it's also easy for even the smallest gaffe to be caught on camera and spread over the internet.
"When you do an off the record there's a modicum of loss of control," said George Caudill, the former visual communications director for Clinton, of Romney's apparent aversion to the events. "Anything can happen. If you want to make sure that you don't leave anything to chance with your candidate, you don't want to throw them out there and have them say something silly."
Caudill noted that both Romney and Obama have tended to keep the restaurant stops they do make efficient and camera-safe, unlike Clinton, whose passion for McDonald's fries became the stuff of legendary "Saturday Night Live" skits.
At Homemades by Suzanne in Ashland, Virginia, an announced stop on Romney's "Stronger Middle Class" bus tour, the candidate spent just enough time to clutch a few hands and kiss owner Suzanne Wolstenholme on the cheek before rushing out to the next rally. As Romney left, he held up a stack of three plastic wrapped pies—apple, chocolate chess and pecan—and waved to the crowd in front of the picturesque main street cafe.
Kimberly Mills, co-owner and manager of the restaurant,  said she and some of the 2,000 others in attendance were disappointed at how short the visit was—eight minutes in total. "I would have liked to talk to him," she said. Still, she said she was thrilled for Ashland and sold 15 more pies in the afternoon after Romney left.
John Friedman, 48, a teacher who attended the Romney event, offered another reason the candidate was better off with takeout pie than quiche, his own personal Homemades by Suzanne favorite. "I like quiche but it's not a 'real man' food," he said.
"They're already calling him a wimp on the cover of Newsweek." Friedman referenced that magazine's recent story titled "Romney: The Wimp Factor."
THE FAST FOOD FACTOR
One thing Romney has not been afraid to eat in public is fast food, if his campaign's Twitter accounts are any indication. In July of 2011, Romney's own account broadcast a photo of him eating a jalapeño chicken sandwich at Carl's Jr., the California chain that is called Hardee's on the East coast. This summer, his tweeted pictures of pit stops at Chipotle and Little Caesars.

While busy politicians have always relied on convenient fast food chains while traveling, the Romney campaign is fairly unique in publicizing these stops, according to Caudill.  Clinton liked McDonald's, and occasionally visited the restaurant during his presidency. But his staff didn't do much to perpetuate the myth in the media, according to Caudill.  "It's rare that candidates publicly go anywhere other than a local spot," as fast food chains tend to look bland on TV and don't do much to woo local voters, he said.
Yet fast food chains also likely help Romney by furthering his reputation as a big business expert. Fast food restaurants not only seem like "regular guy" hangouts but show that Romney appreciates the work of corporations like CKE Restaurants, the owner of Hardee's and Carl's Jr., in creating jobs and economic growth. In his Carl's Jr. tweet, Romney mentioned CKE CEO Andy Puzder, who also promotes Romney on his blog.

Obama's only public fast food excursion so far has been at the burger chain Five Guys in Washington, D.C., and that was in 2009. Experts say this visit was more about showcasing a hometown company—Five Guys is headquartered in Virginia—than the fast food industry itself. Both Romney and Obama have received campaign contributions from fast food purveyors. Restaurants and bars gave a total of $456,386 to Mitt Romney and $378,568 to Obama so far this election year, according to the Center for Responsive Politics, an organization that tracks campaign contributions.
One fast food stop that got a large amount of attention was the time the Romney campaign spend $498.99 at Chick-fil-A at the height of the company's controversy over gay marriage this summer. While the campaign has spent money at Chick-fil-A every month since May, according to public disbursement reports, the choice has never inspired so much ire or support from members of the public. Experts in political stagecraft say that smart campaigns expect even their most banal consumer choices to be scrutinized, and use this to their advantage.
Certainly, it's unlikely the scrutiny will ever lessen. According to Darra Goldstein, editor in chief of the food journal Gastronomica, consumption has long been treated as performance in matters of politics. In the middle ages, courts would create "bystander galleries" at luxurious banquets from which commoners could observe the feast unfold. In turn, aristocrats threw carnivals for their subjects, and watched the revelry and food fighting from their balconies.
"The difference now is that politicians are expected to go out and mix with the people," said Goldstein. "The paradox is we both want to admire those who govern us but have them not be too different from us."
Of course, for all the operatives working to wage these tricky gastronomic campaigns successfully, there are many who wish that eating—a universal activity—weren't so steeped in politics.
"We sell cheese and smoked meats and delicious homemade turkey breast. Nothing about that is partisan," said Debra Krause-Mcdonnell, owner of Krause's in Cincinnati, Ohio. Earlier this summer, an image of her storefront appeared in an Obama campaign commercial without Krause's permission. She sent out a press release and went on national news to try to get the video taken off the air.
"I was used as a political pawn," said Krause. "A lot of small businesses are."
Regardless of its tactics, a good campaign food strategy can help decide whether or not someone dines regularly in the White House. Andrew Jackson won his first election in part by cloaking himself in barbecue's rustic aroma, historians say.
"Nothing is more basic to people's lives than food," said Caudill. "It has the power to make people think your candidate understands them."
This story originally appeared in Huffington, in the iTunes App store.