Ever since Kim Kardashian took over for Jennifer Lopez in the Most Gossiped-About Booty pageant, her derriere has become a living legend. It's photographed ad nauseam, been xrayed and even become a heated part of divorce proceedings.
But Kardashian has, in a rare moment, become self-aware about her bountiful booty.
The 31-year-old TV personality posted a snap on Instagram of her butt snugly clad in a new pair of jeans. A very close-up snap. Let's just say she managed to make it fill the frame.
"I think my butt looks too big in these jeans!" Kim lamented, before providing some physical evidence for the world to debate.
Kardashian, who once submitted to an X-ray to prove her butt was implant-free, got mixed reactions to the Instagram from fans. "Your butt looks horrible, why would you even post this??" one replied. "That looks scary," wrote another. But not everyone was devastatingly disappointed: "ohhh Kimmy you're [sic] butt can NEVER look too big!" one user crowed.
For what it's worth, we'll weigh in on this urgent matter of crucial international importance: we at HuffPost Style think Kim's rear looks just fine.
Ummm in a fitting w @monicarosestyle I think my butt looks too big in these jeans 😱😜 instagr.am/p/OxVHzSuSwH/

— Kim Kardashian (@KimKardashian) August 26, 2012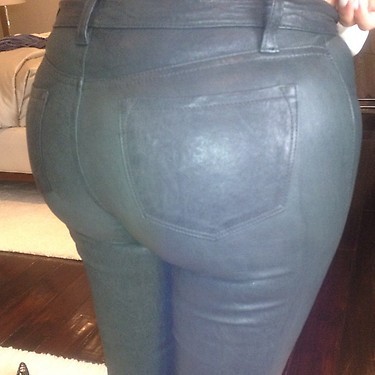 Check out Kim's style throughout the years!
PHOTO GALLERY
Kim Kardashian Style Evolution
Want more? Be sure to check out HuffPost Style on Twitter, Facebook, Tumblr and Pinterest.