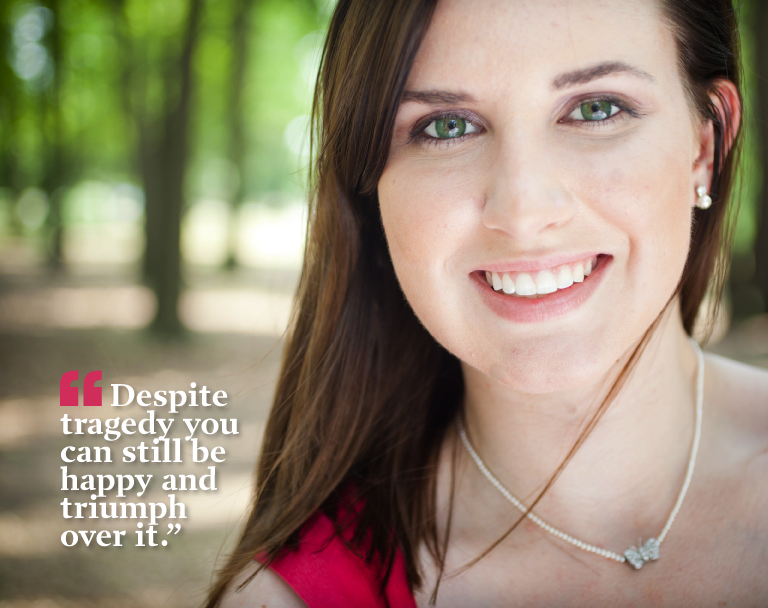 With thirteen being a precarious year for many, there is no doubt that the trials of adolescence are scribbled out on the lines of a journal. But when Megan D'Arcy stared down the pages of her own diary, she was facing an unimaginable situation, one her friends could not relate to, and one she was having trouble dealing with herself. Luckily for Megan, she was introduced to the sage advice of the Queen of the Frogs from within the pages of her diary.
Now 18, the Rochester, Michigan resident is the author of the children's book Be Happy, the same story Megan wrote when she was thirteen-years-old and dealing with the aftermath of her father's death in a plane crash on New Year's Eve, 2006.
The story is about two frog princesses who fear forgetting their father, the Frog King. Their mother assuages their worry with the guidance that as long as they keep him in their memory, he will never be forgotten.
"It's a question and answer type of book to explain that you're not going to forget your parent if you think about them every day," says Megan. "And that you're going to go on and have a successful life, do everything and accomplish your dreams."
More Than Just a Storybook
Propelled by the reality of life without her father, Megan understands what losing a parent could entail for other children. She is thankful her family's living situation stayed relatively normal and that they were able to keep their house, but Megan also knows that some children are not so fortunate.
So when she saw an article about a foundation that aids children who have lost one or both of their parents, Megan realized the wise Frog Queen's advice could be of service.
"Unfortunately, I hear so many stories about children who have lost their parents and are put in a tight financial situation while dealing with the grief," she says. "I realize I see a position to also give back and help others who have gone through similar experiences."
Megan approached Yatooma's Foundation for the Kids with her idea. She relates very much to the experience of the founder, Norman Yatooma, as his own father was killed trying to stop a car jacking when Norman was 20. Working together, they were able to have the book finally published by Momentum Books, a publishing house catered to local Michigan writers. All the proceeds go to Yatooma's foundation.
An Unforgettable Night
On New Year's Eve 2006, Michael D'Arcy crashed his plane two miles from the Romeo Airport while piloting Megan's sister, Katie, and her friends back from their cottage in Sutton Bay. He died on impact, while Katie fractured "pretty much every bone in her body." She was pronounced dead on the scene but a moan alerted rescuers that she was still alive, and Katie was quickly taken to the hospital. She'd miss a semester of school and have to learn to walk again.
"Our relationship is stronger because now I think about what life would be like without her and I'm just thankful she's here and that she can walk again," Megan says.
Megan's mother, Kelly, took upon the task of trying to make sure Megan's life retained some stability, which, given the circumstances, was a trying feat.
"My mom was definitely the rock," says Megan, recalling how her mother hardly ever left the hospital after her sister was admitted.
Finally getting back to school after the accident is an experience Megan described as "one of the worst days of my life" — walking through the hallway amidst a torrent of whispers, knowing that a barrage of journalists awaited her on her front lawn when she got home.
In response to such pressure, Megan hit the books.
Success in the Making
Megan, who graduated high school last spring, is currently packing and saying her goodbyes ahead of her journey to Cambridge, MA, where she will be attending Harvard University.
Since the accident, Megan threw herself into academic work and extracurricular activities. Besides knowing from a young age about her desire to pursue medicine, and the distraction school offered from the reality of her situation, Megan wanted to honor her father's memory.
"He was really smart," she said of her father, an anesthesiologist who spoke numerous languages enjoyed recreational flying. "I wanted to make him proud and focus on school and be successful."
After two consecutive years interning, first at a hospital and then at U.S. Senator Debbie Stabenow's office, four years on student council, being president of the varsity tennis team, and an active in volunteer with her former high school's Key Club, Megan looks forward to new experiences and at Harvard. While pursuing her majors in biology and human evolution, she hopes to continue volunteering, maybe play some intramural tennis, and join the Pre-Medical Society.
"Despite tragedy you can still be happy and triumph over it."
This story originally appeared in Huffington, in the iTunes App store.