Ok, so we may sound like a broken record with this makeup thing, but seriously what's the deal with Pippa Middleton's beauty look?
While out in Paris on Friday, the Duchess of Cambridge's little sis took a leisurely bike ride (on a Velib, no less -- she's one of us!) wearing jeans, a ruffled blouse and matching electric blue blazer and loafers. Très agréable, non? Unfortunately, Pips decided to pack on the eyeliner and fake tan... again.
Just last week, we proposed that the 28-year-old socialite get some sort of makeup intervention after she showed up to a book launch looking particularly painted on. And a week before that, Pippa arrived at a movie premiere wearing a sheet of face-obscuring orange foundation and some of the thickest eyeliner we've seen since Elizabeth Taylor played Cleopatra.
So this is our (most likely) final plea to Pippa: forget what Karl Lagerfeld said about your face; you're gorgeous. You don't need even half of the makeup you wear when you go out. So can we please see you as the fresh-faced girl we know you can be?
PHOTO: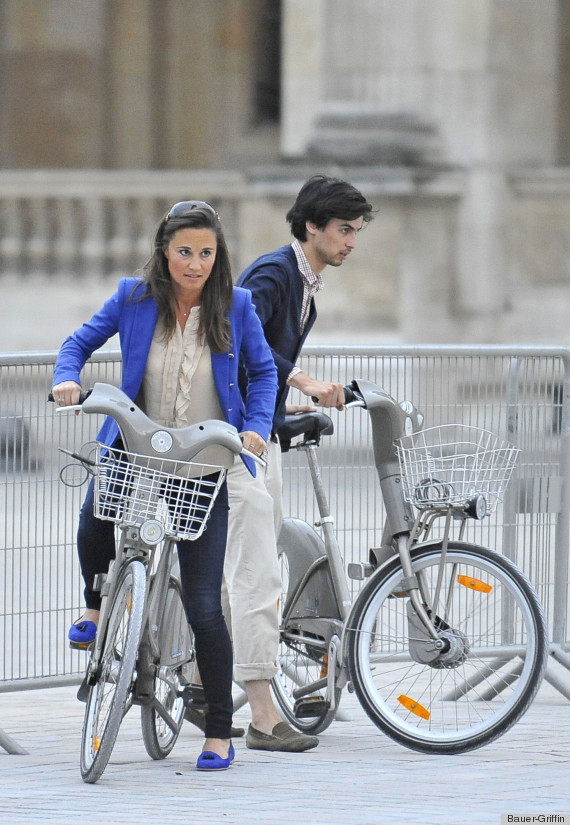 See more of Pippa Middleton's style!
PHOTO GALLERY
Pippa Middleton's Style
Want more? Be sure to check out HuffPost Style on Twitter, Facebook, Tumblr and Pinterest.