 When news broke that the Kardashians' former nanny, Pam Behan, was writing a tell-all book, everyone's ears perked up, hoping for some juicy stories about reality TV's most famous family.
But when the book was released online in July, there was very little interest, let alone any scandalous revelations. Amid old photos from the early 1990s, were the tidbits that Kris Jenner wouldn't tolerate any excuses as a boss, that the family was very much about "keeping up with the Joneses" and that Bruce Jenner once suggested she might want to get a nose job. Talk about a big yawn.
Not surprisingly, the 148-page memoir isn't getting much interest from publishers, according to an email from a Kardashian family lawyer, which Kim Kardashian posted to her website, lamenting the fact that these are the kinds of emails she has to deal with on a daily basis.
In the email addressed to Kim, her sister Kourtney and their mother Kris, the family's legal counsel writes that he received a disturbing call from Behan's publicist, who informed him that the former nanny is getting "desperate" because the book doesn't have enough scandalous material in it. In order to get publishers to bite, Behan is considering releasing the confidentiality agreement she signed with the Kardashians when they first learned she was writing the book, so she can show that the "Kardashians are afraid of the book."
According to the email, the publicist revealed to the lawyer that Behan wants to "leak" information and has been making "nasty comments" about the family. Behan apparently thought that the tell-all book would be her meal ticket, but a scandal-free book is of very little interest, so she's looking to create a scandal.
These are the kinds of emails I get on a daily basis. Seriously, at some point you just have to laugh at how ridiculous people are.

You may have heard about the nanny I had when I was a kid who wrote a book about her experiences as our family nanny. Well I guess her "tell-all" story isn't juicy enough. LOL… Please!!!!!

My family and I were really disappointed in her for using childhood photos of us in her book without our permission, so we had our attorney reach out to her and ask her to sign a confidentiality agreement. But now, we see once again what a classy nanny she is! What a joke!

This is the kind of stuff we have to deal with every day. People looking for scandals and creating nasty stories just to make a name for themselves. You can't get away with it. I'm just going to start posting all the ridiculousness on my blog!
THE EMAIL: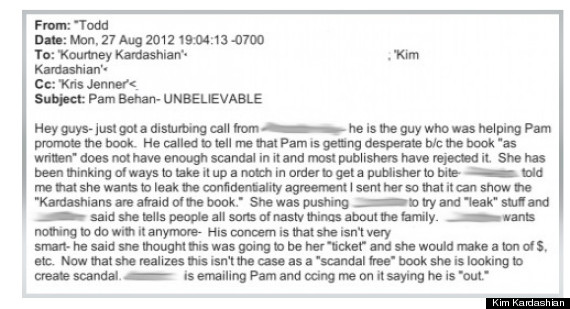 PHOTO GALLERY
The Kardashians
BEFORE YOU GO