With a growing population, integration of immigrants is becoming increasingly important. According to an Immigration Policy Center report, which drew from Census data, one in eight people in the U.S. is an immigrant.
If that doesn't put things in perspective, think about this: in 2010, the U.S was home to nearly 40 million foreign-born people -- 2 million more than the total population of California.
Despite the growing population of immigrants, job opportunities are limited, especially in fields that require workers to have specialized knowledge. Already this year, the government has reached its cap for granting high-skilled worker visas to immigrants and businesses. The vast majority of immigrant workers are confined to low-end jobs and domestic work.
The National Immigrant Integration Conference, an annual event that gathers immigration advocates and integration experts from across the country, will meet in Baltimore, Maryland, this year to discuss ways of integrating America's immigrants. In anticipation of the four-day conference beginning Sept. 22, the NIIC produced the following infographic comparing immigrants to native-born workers.
Check out how the two groups stack up, by the numbers, in the graphic below.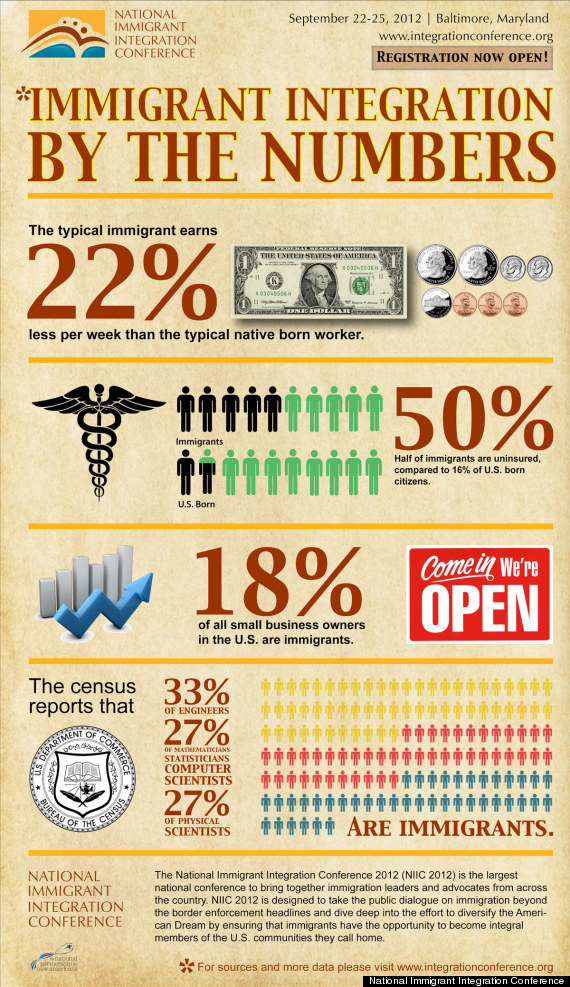 BEFORE YOU GO