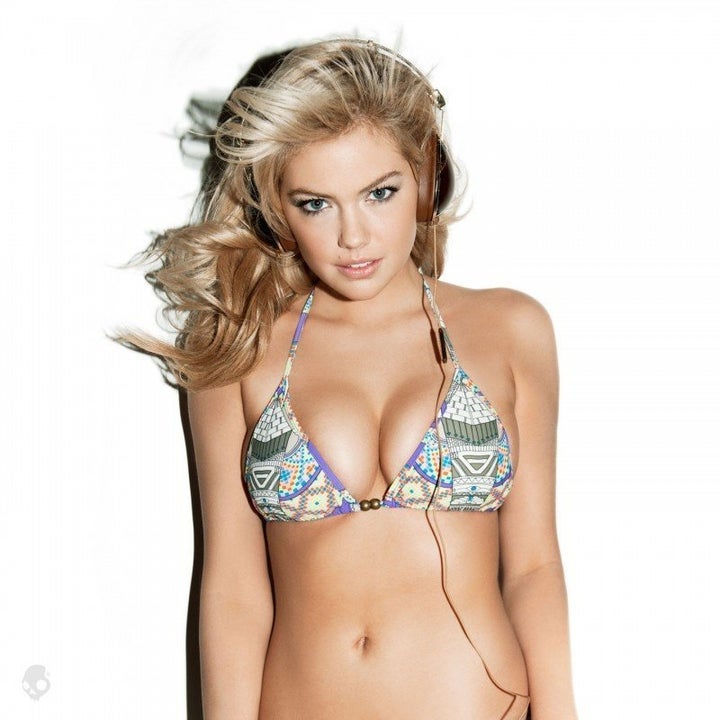 The headphone company chose the Sports Illustrated cover girl to spearhead their campaign along with Chrissy Teigen (a fellow Sports Illustrated swimsuit model), Jessica Stam and Chanel Iman -- not a bad group of ladies to associate yourself with as a model. But we couldn't help but notice the striking difference between the shots of the ladies. Kate's cleavage received front and center attention in every photo while the other models were decidedly more covered up. (Jessica even wore sweatpants in one photo!)
Now we know that Kate's curves have garnered her a lot of positive (and negative) attention, and they're definitely on display here -- much more than the other girls'. One shot even features Kate in a bikini top, an opened leather jacket and an unzipped pair of shorts. We imagine that if you have enough forethought to bring your expensive headphones that you can manage to zip up your clothing before you leave the house, but that's just us.
Check out the photos of the Skullcandy campaign below and tell us what you think.
PHOTO GALLERY
Skullcandy Model Crew