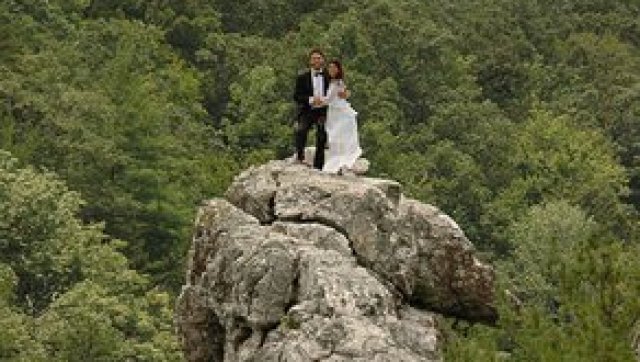 How did a Northern Virginia couple's mountaintop wedding become international news?
"The best answer I can give is the Internet," Bob Ewing, the groom, told The Huffington Post. "And people love weddings. People love weddings, and people love interesting pictures."
These are interesting wedding pictures. As you can see in our slideshow, they show the Arlington residents climbing -- with ropes and hard hats -- to the top of a 900-foot mountain in West Virginia, in full wedding regalia. (Adding even more charm: a lot of the photos were taken by Bob's brother John; the wedding was officiated by Bob's other brother, Scott.)
PHOTO GALLERY
Bob and Antonie Ewing's Mountaintop Wedding
Bridal Guide has the details of how (and why) Bob and his new wife Antonie Hodge Ewing married in this spectacular if hard-to-reach place:
Back in March, Bob proposed to Antonie at the top of their favorite route on Seneca Rocks, called Ecstacy. After Antonie happily said yes, they continued up to the South Peak summit just before sunset. Antonie remarked that she wanted to get married on that summit in her mom's wedding gown. "I thought that sounded perfect," said Bob. "Her mom even joined us for the mountaintop ceremony."
And as for how the photos went from the mountain to the Internet, Bob says a picture of the August wedding "went viral on Reddit." From there, it was picked up by other blogs and websites. Bob then got in touch with an Associated Press reporter he knows through his job -- he's director of communications for the Institute for Justice, a libertarian public interest law firm.
"And he said, yes, we like this story," says Ewing.
When the AP story of the wedding was published on Tuesday, some commenters expressed doubt:
Photoshopped.
Bob's Flickr album of the wedding-day climb would suggest otherwise.
Do you have a great local wedding story? Let us know at dc-tips@huffingtonpost.com.
BEFORE YOU GO