Reddit users are probably familiar with the social news website's many aspects. Its adorable pets, esoteric memes and candid question-and-answer sessions alone make for hours of quality browsing. But as might be expected of a site where merit is measured in "karma," Reddit's community can also show a lot of heart.
One recent example of the community's kindness was one user's photo restoration request. "Master_of_memes27" posted a wedding photo of his grandparents and asked fellow Redditors to touch it up, explaining that his grandfather, a World War II veteran, was "on his deathbed." He said that adding a little color to the picture would brighten his day.
SCROLL FOR PHOTOS
Several members of the community immediately responded, producing several colorful renderings of the wedding photo. But it was a submission by user "JackDarton" that wowed the community most. His subtle, warm approach added new life to the decades-old memento.
Darton, a vehicle artist by trade, eschewed Photoshop shortcuts like filters and noise reduction in his retouch, opting instead to color it freehand with the brush tool. In an e-mail to The Huffington Post, Darton said the whole project took him about half an hour from start to finish.
"I think the Reddit community as a whole is a great and wonderful place filled with people willing to help other people out," Darton wrote. "Any artist will agree that it's nice sometimes to work on something without it being a 'job,' and if it puts a smile on someone's face, I don't see any downside."
The Reddit community also has a history of supporting members of the armed forces. Some have organized holiday care package drives for troops stationed overseas.
LOOK:
Before: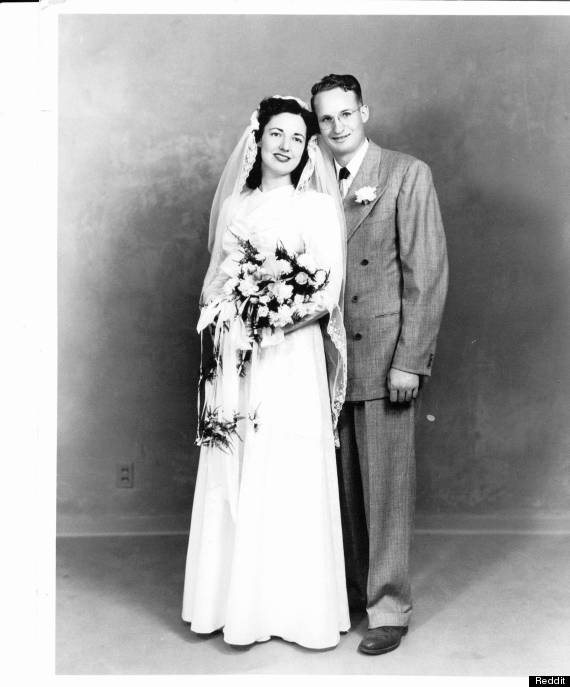 After: