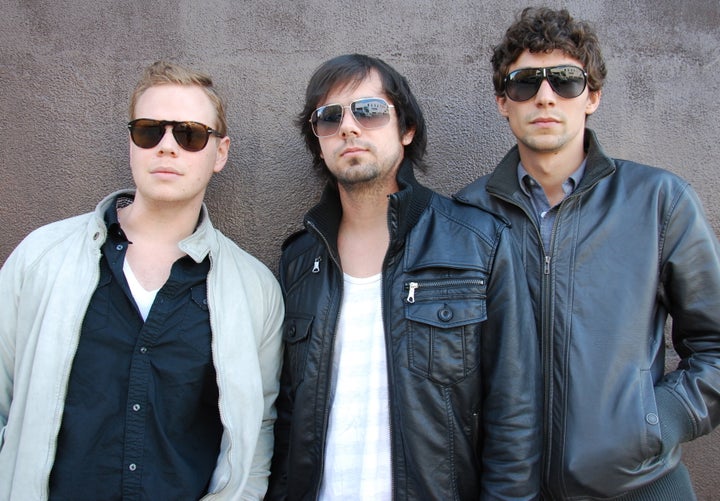 SAVOY is an electronic dance music trio with surprising roots. Just a few years ago, Ben Eberdt, Gray Smith and Mike Kelly were a jam band from in Colorado, where they were students at C.U. Boulder. Now they're headlining the famed Red Rocks arena, dropping remixes from dance titans like Laidback Luke and DJ'ing at Jay-Z's inaugural Made in America Festival.
"The band was always a dancey thing, and that happened for a few years," Eberdt explains in an interview with HuffPost Entertainment. "We just decided we needed a bigger sound to round it out and hit those sub-bass sounds that a regular acoustic kick drum couldn't really make."
So the boys added a synth pad and jumped down the Ableton wormhole at a time when many producers still weren't performing with the software. "I was the only soul except for our friend Derek [Vincent Smith] from Pretty Lights who used Ableton," Eberdt said.
And now, though they've focused exclusively on dance (be it dubstep or electro house, genres often jump between), they've decided to maintain that "rock edge." And so Kelly, the drummer, stayed on for the ride.
It proved to be a good decision. "We're all grateful to have a background in music theory," Eberdt said. "Because while we do make dubstep, we prefer to do some more melodic sounds than people are accustomed to with the more aggressive sounds in dubstep."
On Tuesday, the trio is releasing Supertrail, a free (click here to snag it) new EP featuring familiar collaborator Heather Bright on multiple new productions. They also recently dropped "Under My Skin," which features deadmau5 favorite SOFI on vocals. In the transcript that follows, we chat about SAVOY's music idols, whether DJ'ing is an art and what they're really hoping happens in Philadelphia this week.
Talk to me a little bit about the process of making the EP.
Well we did just release a track featuring SOFI just a few days ago. But most of it is made right here in Brooklyn in home studios. Sometimes we'll go into a larger studio in L.A. if we're working with another artist -- we're on the road on the West Coast a lot so it's nice to meet up with Heather Bright or some of our other collaborators.
You've worked with Heather and now with SOFI -- if you could book anyone (a producer or a vocalist), who's the first person that comes to mind?
I think that Diplo is really cool and has his hand in everything from Top 40 pop stuff to underground, world stuff. He seems like he has a massive repertoire and a lot of his artists are great. He comes to mind as a producer first probably.
Have you guys been in touch at all?
We've been in touch, but not a lot. We haven't really worked together before. As an electronic music producer I think it would be really cool to get up with him. But we're also big fans of indie rock singers and more of a raw, rock sound as well. So there's a lot of guys out there that we would like to work with in that way.
What bands or singers inspire you from that world?
Everything from Led Zeppelin, who's obviously a huge influence, to bands like Phoenix. They have a dance vibe but it's definitely a rock vibe too. And they have that crossover audience that's still indie-rock but people are over the world have their music on their iPods.
A band like Phoenix is really cool because they actually do a lot of electronic processing in the studio. And their live show is great, they're one of the few bands that I've seen that is better live than on the album.
On the live show side, I've seen you guys a few times now and there's definitely a certain energy that you bring, both to DJ sets and in the full production. Is there a particular mindset you have for that?
The general philosophy is that we're obviously fully electronic but we really like to bring the rock edge to our shows. And that's why we play with a live drummer and why we're bringing singers to our live shows. Heather Bright and SOFI are both performing with us at Red Rocks. So we really like to take music that is thought of as an in-the-club atmosphere and bring that to a rock arena and put on a rock type of energy. And that really shows through in our productions as well. We like to bounce around different styles but whether we're doing a dubstep track or an electro track, we like to give it that signature SAVOY sound.
You're booked for the Made in America Festival. Have you met Jay-Z?
I have not met Jay-Z, it was all done through our agency. But [laughs] we would all be stoked to say what's up to Jay-Z and maybe say hi to Beyonce if she's around.
So in the event he reads this article, we'll be sure to include that you are not opposed to meeting Jay-Z.
Going back to the live show, I spoke to Gray about using Ableton and tweaking stuff as you go along. Do you have any thoughts, as a group that likes to bring new elements to the show, about this controversy about "button pushing" and whether DJ'ing is an art?
I've obviously read up on all of that, and all of these guys are obviously very smart and successful for a reason. Some people want to DJ on CDJ's, some want to get more technical, and I don't know how much -- Your equipment doesn't limit you. Just because you're using CDJs or spinning records or using Ableton, there are always different levels. I just think that different people have different strengths, some people are just absolute geniuses in the studio, and they spend all this time on their productions and planning. We're making this song in the studio right now for the sole reason of translating that to the main arena. And we know if we do it like this, it's going to go off. A lot of people put so much effort and hours into the studio just so they can present it in a live context.
So for those people like David Guetta who is a brilliant studio musician who doesn't do that much stuff live? That doesn't bother me at all. Because being a part of both worlds, producing and DJ'ing, I know that he's not up there because his job is easy. He's put in so much work to get to that spot, and people like his music. And people like Deadmau5 who really want to take it to their live show and control live synths and crazy light fixtures -- that's his cup of tea. And we've always found ourselves somewhere in between those two.
We love to spend time in the studio and plan our sets in a way that we know we can control the energy a certain way. Sometimes if you go a bit too far with improvisation you can do something that is not as great as if you had spent some time planning. At the same time, you want to give a new experience every night for your fans, and we also like to keep ourselves entertained, so it's great to be able to change things. And it's great to have the live drummer and singers because the human element is great.
How did the Laidback Luke remix (of "We Are the Sun") come about?
He and Heather Bright are friends and sometimes people are just really nice. Luke is absolutely the man and Sander van Doorn and Spinnin' Records gave us a bunch of big support. Heather and Luke go back awhile and Luke just pretty much said he would do it. We're forever grateful. That was a really cool thing to be a part of.
PHOTO GALLERY
SAVOY Songs & Remixes
BEFORE YOU GO