Some dessert lovers are still oohing and ahhing over cupcakes, but we've moved on to pie. Pie is not as showy as those little frosted cakes (but can still be decked out with more than just lattice topping). It's usually made with a simple buttery crust and some sort of fruit filling. And it will never let you down.
Pie's so good it has even brought some people to resort to robbery for a slice of it. But most of us who crave pie don't turn to criminal activity, rather we just get in the kitchen and bake one. But which "one" to bake?
From blueberry to strawberry rhubarb, chocolate cream to salted caramel, the options for pie are limitless. And picking a flavor can be straight-up difficult. But now, you don't have to choose. With the invention of a split-decision pie pan, you can make two pies in one.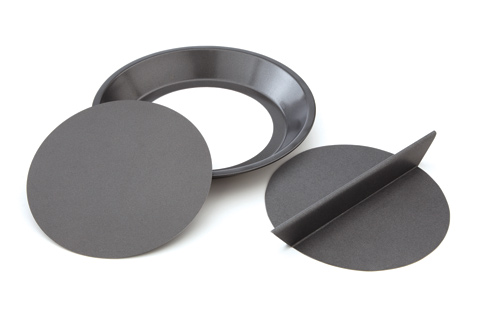 The split-decision pie pan comes with two inserts, giving you the option to make one whole pie or two halves. It also has a removable bottom, which any pie maker knows is helpful. The only thing we don't understand is why you would want to make two half pies when you could just make two whole ones?
You can get the Split Decision Pie Pan at The Spoon Sisters, $20.
Check out all the pies you can make in the split-pie pan!
PHOTO GALLERY
Pie Recipes
BEFORE YOU GO