Virginia may be for lovers but Corbin Prydwen doesn't think that includes prostitutes -- at least not in front of his home in Roanoke, Va.
Prydwen lives in a section of town called Mountain View, but the only "mountin'" he's viewed on his street since he moved in this past June is from the many prostitutes peddling their wares on his street.
"In the middle of the day towards the afternoon we'll have between three and four prostitutes sitting under the trees here," Prydwen told WTVR-TV.
Prydwen is so sick of all the "ho biz" that he's taken action with what might be called "anti-social media": Numerous signs on his property stating, in bold letters: "No more hookers!"
"Just taking a stand within my community. Letting them know I live here. I am not going to tolerate this. This is my home," Prydwen told WSLS-TV.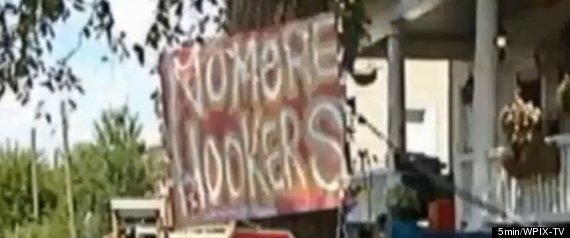 Prostitutes are called ladies of the evening, which is why Prydwen shines bright lights on his anti-hooker sandwich boards at night.
But whether it will work in the longterm is anyone's guess. Captain Monti Lee of Roanoke City Police Dept. said Prydwen's street has long been known for its streetwalkers.
"From the past it was known as an area for prostitution and thus the people looking for prostitution and the prostitutes know it's an area to come," Lee told WDBJ-TV.
The station reports there have eight prostitutes arrested in Prynwed's neighborhood, and 16 arrests of johns. Prostitution arrests are down from 150 in 2004 to 42 in 2011.
Still, Prynwed has a zero tolerance prostitution policy and, apparently, the feeling goes both ways.
"I asked them nicely please don't stand on my corner and I've gotten a lot of negative response from them. I've actually had a knife pulled on me by one of them," Prydwen told WDBJ-TV.
BEFORE YOU GO
PHOTOS: NAKED PROTEST
PHOTO GALLERY
Naked Protests