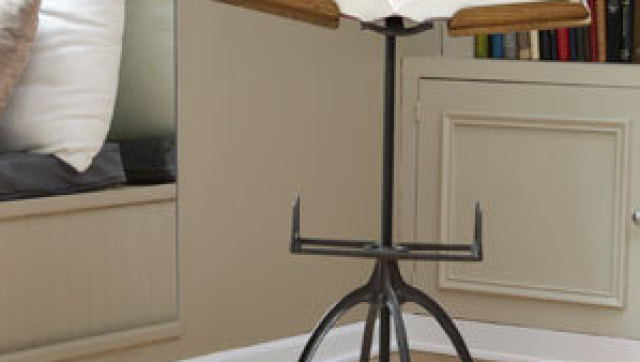 We're very excited to syndicate one of our favorite columns, 'What Is It? What Is It Worth?' from one of our favorite magazines, Country Living. All text and images below are provided by Country Living. Get ready to be surprised!
"My grandmother displayed this book stand in her den. How old is it?" -P.T., St. Charles, Illinois
Late-1800s Dictionary Stand
Our antiques specialist, Helaine Fendelman, appraises your finds and collectibles.
Designed by Iowan inventor L.W. Noyes and manufactured by the Chicago-based firm Giffen & Giffen, this piece remains in fantastic condition — especially given that it's more than a century old. Intended to display a dictionary (and also used to hold a Bible or other reference book), the stand is conveniently adjustable: Its oak panels move up and down on the cast-iron base and can be tilted back or forward so the text sits at an ideal angle. A handy shelf, just above the cabriole-style legs, neatly houses smaller volumes (spines facing up), and wooden casters allow the reader to move the podium from room to room with ease. This handsome piece, a status symbol for the educated bookworm, originally sold for around $5. Now it commands a much higher figure.
What It's Worth: $350
Also check out on CountryLiving.com:
6 Amazing Small Space Decorating Ideas