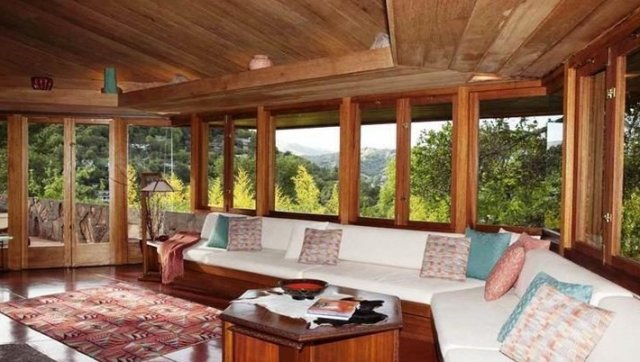 Remember the Frank Lloyd Wright-designed doghouse in Marin County? Now you can buy the house that inspired it.
San Anselmo's famous Frank Lloyd Wright-designed home just hit the market for $2.5 million, according to Curbed. And it's a beauty.
(SCROLL DOWN FOR PHOTOS)
Designed by Wright and built by the homeowner, Robert Berger, the two-bedroom, two-bathroom 1,760-square-foot house showcases Wright's classic midcentury style with a touch of Northern California sentiment. Stone and woodwork make up the home, with sharp geometric angles inside and out. A main room is anchored by an enormous stone hearth, and floor to ceiling windows give the space a tree house feel.
But though the designer, the house and the location would be enough of a sell, the adorable backstory doesn't hurt either.
According to the San Francisco Chronicle, Berger was an engineering teacher who wrote to Wright, asking him for a design for a house that he could build himself. Not only did Wright oblige, but he also sent along blueprints for a doghouse, free-of-charge, after Berger's 12-year-old wrote separately to request them.
"I was probably his youngest and poorest client," remembered the boy, Jim Berger, who is now 68, in an interview with the Associated Press.
Check out the doghouse here, and the main house for sale in the slideshow below:
PHOTO GALLERY
Frank Lloyd Wright San Anselmo House
BEFORE YOU GO