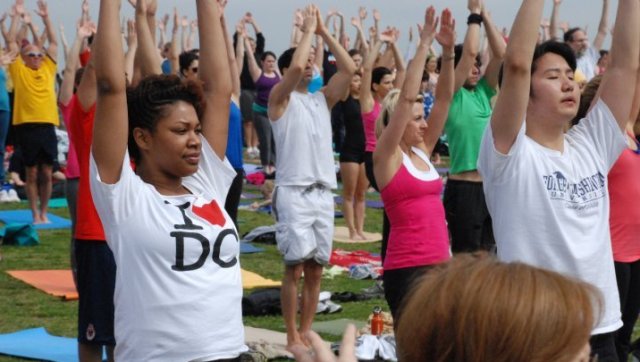 TOP 5 FOR WEDNESDAY, AUGUST 29
1. Frau Eva At Velvet Lounge
Last show for the whimsical indie pop band. Hopefully their website will stick around. 8:30 p.m., 18+, $8 to $10
2. Yoga In The Park At South Side Of Dupont Circle
The final free outdoor yoga session of the summer. 6:30 p.m., all ages, no cover
3. Speedy Ortiz At Black Cat
Math rock is usually fronted by very nice, very mediocre boys. Speedy Ortiz's Sadie Dupuis fronts this four-piece. Think The Breeders with more focus. 8 p.m., 21+, $8
4. Sketch Lounge At The Dunes
An interesting idea. Six to eight artists will create art while a crowd mingles and watches. When each piece is finished it will be priced between $5 and $30 and available for purchase. DJs spin and a bar is open. A neat way to meet like-minded individuals. 7 p.m., all ages, no cover
5. Sonic Circuits Fundraiser At CD Cellar
Sonic Circuits will be at the Atlas Performing Arts Center from Sept. 28-30. The Atlas isn't cheap. Use this fundraiser is a good opportunity to gauge your interest in experimental music. 8 p.m., all ages, $5 to $10
TOP 5 FOR THE NEXT 5 DAYS
Thursday, August 30
Dan Klaidman at Politics and Prose
The author of "Kill or Capture: The War on Terror and the Soul of the Obama" reads from his newest work and will participate in a Q and A.
Friday, August 31
Jazz in the Garden at National Gallery
The final Jazz in the Garden of 2012. Dixie Power Trio will perform while patrons wander the Sculpture Garden.
Saturday, September 1
TAINT, Pt.1 at The Fridge
Vestibule is producing TAINT shows at The Fridge over the next few weeks. The art fans are making the city much more interesting. This event will feature choreographers working with dancers working with multi-media artists working with actresses. The performers will explore symbols used in cultural imperialism. Big ideas confronted in a small space.
Sunday, September 2
National Symphony Orchestra at West Lawn of the U.S. Capitol
America's symphony celebrates Labor Day with a free concert for America.
Monday, September 3
"The Elaborate Entrance of Chad Deity" at Woolly Mammoth
The 2010 Pulitzer Prize finalist play begins its month long run at the Woolly.
BEFORE YOU GO