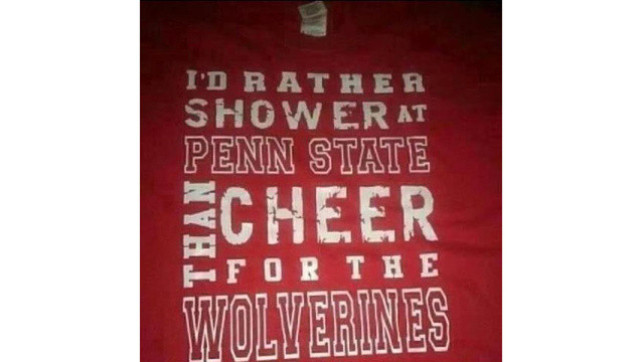 Surprise: this season, Ohio State fans won't cheer on the Michigan Wolverines and will instead favor their own program.
It's all well and good, except for Ohio State fans' temptation to do so wearing a tasteless T-shirt, reading "I'd rather shower at Penn State than cheer for the Wolverines." At a time when Penn State players have chosen to focus on football and move on, fans are more than willing to throw a rape joke into a rivalry.
The shirts aren't approved by Ohio State, but the fact that they aren't official isn't slowing their popularity at other schools. LSU's ungrammatical version takes on Alabama.
What's your take on the shirt and phrase? Is it football talk or simply disrespectful to victims? "As I'd rather shower" takes hold in the Urban Dictionary, what would you rather do than participate?
UPDATE: 2:45 p.m. -- There's also a University of Iowa version, which attempts to get its humor against the University of Nebraska. Keith Murphy, a sportscaster in Iowa, tweeted "Real Hawk fans won't let foolish fans wear shirt [sp] like this. Beyond ignorant and insensitive."