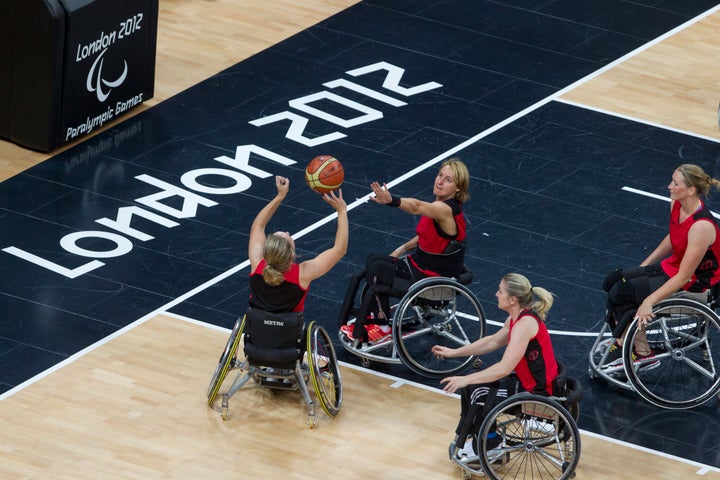 Though U.S. coverage of the Paralympics still vastly pales in comparison to other countries', supporters say the amped up airtime is a welcome improvement likely inspired by the veterans who are competing.
A record 2.2 million tickets were sold for the Games that begin Wednesday, the Associated Press reports, and media outlets across the world have responded to the demand. Britain's Channel 4 will show 150 hours of programming (and about 350 hours more online) and the Australian Broadcasting Corp. will feature about 100 hours of coverage. NBC, which drew 31 million viewers during the Olympics, is featuring the Paralympic Games for the first time and showing four one-hour long highlights programs, according to PBS.
While the coverage is certainly relatively sparse, some advocates for adaptive athletics feel emboldened by the network's decision and partly credit the military presence for the change.
"The veterans are having a huge impact," Christine Tinberg, founder of Bicycling Blind Los Angeles, told the Guardian. "It pulls people's hearts. And the government is putting a lot of money into sports facilities for them."
"Competing on that day…means I've walked the path from being chained to the bed at exactly a year ago to competing on an international level at event like the Paralympics," Snyder told the news outlet. "It means I won a little bit."
The International Paralympic Committee said it sees the increased U.S. coverage for the Games that are drawing the 4,280 Paralympians from 165 countries -- the largest number ever –- as a win, too.
"It's tremendous news that the London 2012 Paralympic Games will get more airtime in the US then ever before and thoroughly deserved," Sir Philip Craven, the International Paralympic Committee president, told the Guardian.
But some activists simply aren't satisfied and have turned to galvanizing supporters online to urge American networks to give more recognition to the Paralympics. Damon Herota, an IT consultant in Florida, set up one petition that collected more than 1,400 signatures.
BEFORE YOU GO
PHOTO GALLERY
Oscar Pistorius At London Olympics