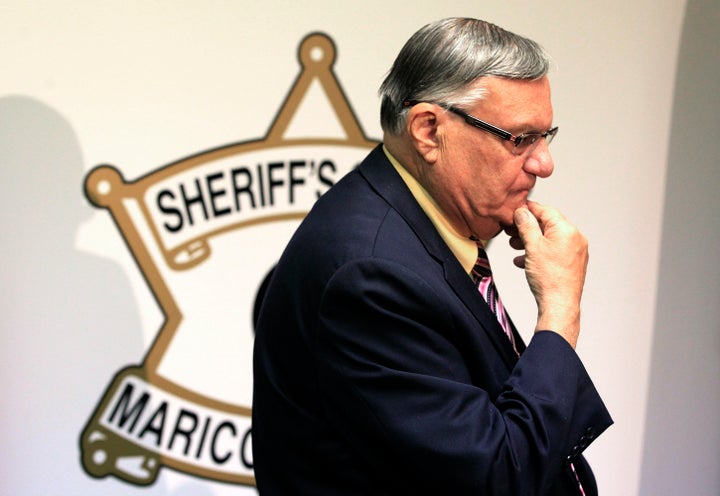 Arizona Sheriff Joe Arpaio might want to get ready to spend more time in court defending himself.
The men, newspaper co-owners Michael Lacey and Jim Larkin, were arrested at their homes in the middle of the night after their publication reported the sheriff's office planned to use a subpoena to figure out who was talking to journalists about Arpaio. Arpaio's allies drafted subpoenas that "demanded that the paper reveal its confidential sources as well as produce reporters' and editors' notebooks, memoranda, and documents" related to stories about Arpaio, according to the court ruling. The New Times refused, leading to misdemeanor charges against Lacey and Larkin of disclosing grand jury inner workings. The charges were dropped the next day.
"Sheriff Arpaio should have known that arresting someone at his home requires a warrant, unless there are exigent circumstances," the appeals court opinion said. "We cannot fathom what exigent circumstances compelled either arrest."
Arpaio spokeswoman Lisa Allen told Bloomberg that Arpaio is unable to comment because he is in Tampa for the Republican National Convention. "Upon his return, I'm certain he will review the court's decision," she said.
New Times editor-in-chief Rick Barrs applauded the court decision, telling HuffPost that Arpaio will now "have to answer for it in court."
"What Joe Arpaio spearheaded, in cahoots with since-disbarred, ex-County Attorney Andrew Thomas, was a travesty of justice," Barrs said.
The weekly paper, part of the Village Voice network, has reported extensively on Arpaio since the mid-1990s.
Arpaio already faces a lawsuit alleging racial profiling in his department by civil rights groups. The Department of Justice sued Arpaio's office in May, also based on claims of racial profiling.
UPDATE: 6:45 p.m. -- Lacey, the newspaper co-owner, responded to the ruling with this statement:
Sheriff Joe Arpaio's arrest and jailing of journalists is part of a pattern of trying to silence critics. It is an outrageous abuse of power. But he loves the publicity, even when it backfires. Arpaio relishes law enforcement by headline. Today he rounds up Mexicans. Tomorrow's target is anybody's guess.

BEFORE YOU GO
PHOTO GALLERY
Controversial Immigration Laws