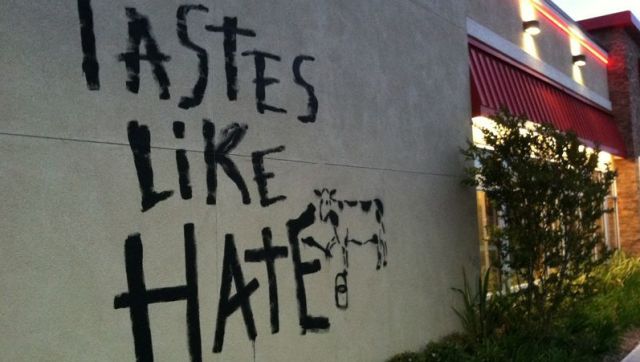 Manny Castro, the artist who admitted to vandalizing a Chick-fil-A restaurant in Torrance, Calif., will not be facing felony charges.
The Los Angeles County District Attorney's Office released a statement to City News Service through John Zajec, head prosecutor in the Torrance office, reports the LA Weekly.
It is the conclusion of the District Attorney's Office that this is not a matter for which felony prosecution is appropriate. The matter is therefore referred to the Torrance City Attorney's Office for consideration of possible misdemeanor prosecution.
Castro came forward to The Huffington Post Aug. 3, the day the graffiti was discovered. In an exclusive statement, he admitted responsibility for the message, which he said was in protest of Chick-fil-A president Dan Cathy's comments against gay marriage rights.
"Everybody is entitled to free speech, but it seems like for the gay tribe, this is more of an issue of equal rights -- human rights," explained Castro. "I'm against what these people stand for, what this company stands for. They're trying to take away what little rights we already have."
In a subsequent statement to HuffPost, he called himself a "proud Christian" and offered to pay for the cost of repairing the wall.
Contrary to popular belief, I am a proud Christian and I wholly subscribe to the verse: "Let he who is without sin, cast the first stone."

I didn't use violence. I used paint. Artists for centuries have expressed their opinions through this medium and I am no different. The word "FAG" spray painted on anything has never garnered the media attention that my cow with a paintbrush did. And that's unfortunate.

I am happy to pay for the costs of repainting the wall, but I am not -- nor will I ever be -- happy to sit quietly at the back of the bus.
He was arrested in West Hollywood about one week later and released on $20,000 bail.
It was Castro's offer to make restitution, as well as the fact that he wasn't motivated by religious hatred, that helped the LA County District Attorney's office make the decision to downgrade the charge to a misdemeanor, notes City News Services.
The case is now up for consideration at the Torrance City Attorney's office.
BEFORE YOU GO
Check out the slideshow below to see companies and products that, unlike Chick-fil-A, have been supportive of gay rights.
PHOTO GALLERY
25 LGBT-Friendly Products & Companies Targeted By Boycotters