Wassily Kandinsky, the Russian-born painter famous for his vibrant colors and early abstract techniques, is set to break records at Christie's this November. His 1909 painting "Study for Impression 8" was recently announced as the "first star lot" of the auction house's upcoming Impressionist and Modern Art sale, boasting an estimated price tag of $20-$30 million, according to Reuters.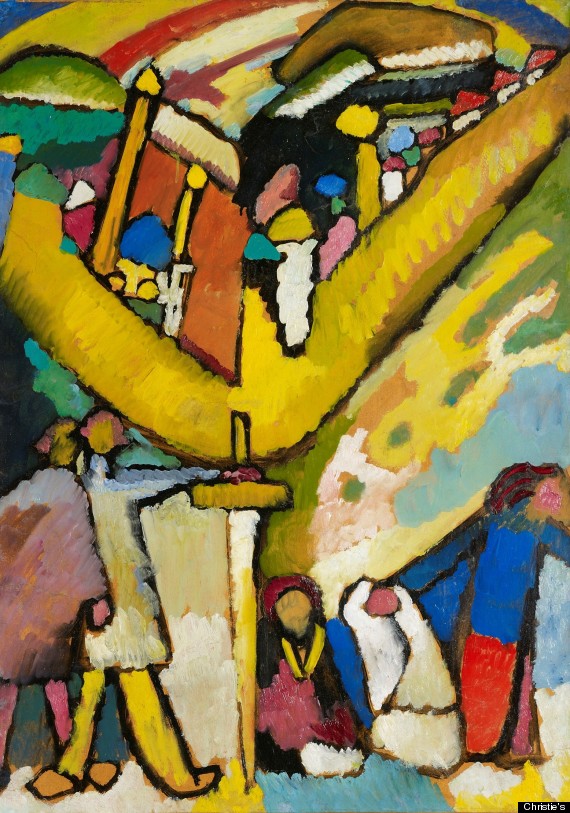 WASSILY KANDINSKY (1866-1944), Studie für improvisation 8, painted in 1909 in Murnau, oil on cardboard laid down on canvas, 38 5/8 x 27 ½ in. (98 x 70 cm.). Estimate: $20,000,000-30,000,000.
"Study for Impression 8" is being sold by the Volkart Foundation, the charitable trust of 160-year-old Swiss commodities trading firm Volkart Brothers. After having spent time on loan to numerous art museums like London's Tate Modern and Musée des Beaux-Arts in Montréal, it's now poised to become Kandinsky's most expensive masterpiece, beating out his "Study for Improvisation 3," which sold for a whopping $16.9 million at Christie's in 2006, and the reigning auction record holder "Fugue," which went for $20.9 million at Sotheby's in 1990.
The painting shows a scene of pilgrims gathered outside the walls of the once Russian-dominated capital, Kiev. Silhouetted by a background of domed buildings rendered in the fantastical color palette that the artist favored, the pilgrims are depicted in front of two armed men guarding the city's gates, possibly alluding to the story of Boris and Gleb, the sons of Vladimir the Great who brought Christianity to Kiev in the 10th century, or to Kandinsky's beloved warrior, Saint George.
As the title of the painting indicates, "Study for Improvisation 8" is part of a larger series of oil paintings called "Improvisations," all of which were created in the Bavarian town of Murnau in the run-up to World War I. During this period, Kandinsky was increasingly affected by the revolutionary spirit brewing in Russia and his own dissatisfaction with the material side of the art world. Organized into "Impressions," "Improvisations," and "Compositions," the masterpieces of this time are marked by their impulsive brushstrokes and dreamy forms, and reflect Kandinsky's revitalized approach to art outlined in his book, "Concerning the Spiritual in Art."
According to a press release issued by Christie's, the high-price of "Study for Improvisation 8" is a result of its provenance -- it's been hanging in famous art havens across the globe for the past half-century -- and the fact that the "Improvisation" series has only come to auction twice in recent years, with most of the studies happily housed in major museum collections. A Wall Street Journal article adds that the painting's popularity may also be affected by demand from the newly wealthy art collectors in Russia. Depicting traditional Russian motifs in an abstract style, the painting is likely to excite the uber-rich residents of Kandinsky's native country who revere the painter as an icon of Russia's artistic elite.
"From a collector's perspective, Kandinsky's Improvisation series is at the nexus of some of the most compelling innovations of the avant-garde era," stated Brooke Lampley, Head of Christie's Impressionist and Modern Art division, in a press release for the piece. "Through these paintings, Kandinsky was pushing the traditional limits of artistic expression in order to advance radical new theories about form, color, subject matter and most of all, artistic impulse."
Details on Christie's November 2012 "Evening Sale" of Impressionist and Modern Art will be announced in the coming weeks on the auction house's website. All proceeds from the sale of "Study for Impression 8" will benefit the Volkart Foundation's charitable programs.
Let us know what you think of this high-priced Kandinsky in the comments section. If you had $30 million, would you bid on "Study for Impression 8?"
BEFORE YOU GO