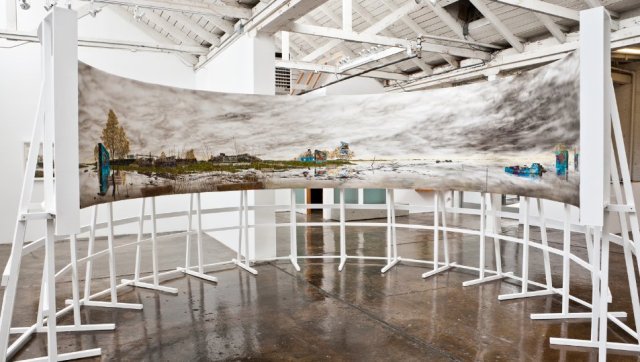 ARLINGTON, Va. -- Joni Mitchell is to thank for the newest exhibit at the Artisphere.
Inspired by Mitchell's "Big Yellow Taxi," curator and artist Cynthia Connolly has brought together nine artists exploring the role of industrialization has had on America. From paintings to photographs, sculpture to film, the exhibit highlights the work of nine diverse artists.
Currently on view through Nov. 4, Connolly is hoping the exhibit encourages conversation. She told The Huffington Post, "with any art show we hope for some kind of interaction with the show and some kind of dialogue with your friends."
Click below for a preview of the mixed media art.
PHOTO GALLERY
Beyond the Parking Lot
The mixed-use show allows artists from rural and urban environments, including D.C. artist Frank Hallam Day, the chance to showcase their view of concrete in America.
"All these artists are expressing something about the change in our landscape and the place where we live."
From Frank Day's "Baltimore Panaroma" photographs to Gregory Euclide
's sculpture "There's No Place Without Foam"
 made out of found objects, each piece could be centerpiece for a devoted exhibition. By bringing together different forms, Connolly is casting a wider net for art lovers. "Not only is each work strong on its own, I hope the impact will be strong."
The opening reception for "Beyond The Parking Lot" will be Thursday, Sept. 6 from 7 to 10 p.m. The event is all ages and is free.