With the first day of fall rapidly approaching, we can't wait to piece together holiday outfits that are full of glitz and glamour. But while we still have a few more weeks of warm, sunny days to indulge in, it's only fitting that we ease our way into the cold-weather season with this bespeckled DIY nail art.
Christina Rinaldi, nail artist and creative director of the full-service boutique studio Prima Creative, translated the clashing colors from Suno's fall 2012 show into a wearable manicure. Set against a rich black base, the five different shades of polish (plus the silver glitter) seem to float, much like the prints found throughout Max Osterweis and Erin Beatty's designs. Scroll down for the step-by-step instructions to get this look.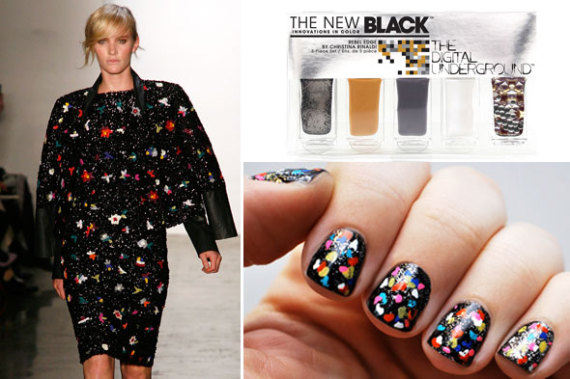 Photos: Model at Suno fall 2012 runway show, Getty Images; The New Black x Prima Creative Black from the Rebel Edge Collection (available at Sephora); Christina of Prima Creative's Suno fall 2012-inspired DIY nail art.
Step 1: Paint a thin coat of The New Black x Prima Creative Black on the entire nail.
Step 2: Dab the silver glitter sporadically throughout the nail.
Step 3: Add the multi-color specs (red, pink, turquoise, yellow and white) with two dabs of each color to each finger using a nail art pen. Your nail will fill up quickly, so be reserved when applying.
Step 4: After your designs have dried, apply a top coat of your choice to seal the manicure and give it a glossy finish.
What do you think about this Suno-inspired glitter manicure? Would you wear it? Tell us in the comments section.
Meanwhile, find out how to get the perfect lines with these DIY nail art tricks.
Click through the slideshow below for more DIY nail art.
Want more? Be sure to check out Stylelist on Twitter, Facebook, Tumblr and Pinterest.
PHOTO GALLERY
DIY Nail Art
BEFORE YOU GO