Cindy Sherman is renowned for her uncanny portraits, within which she inhabits a range of characters and pictorial styles. It may then be no surprise that the master of resemblances has fostered a set of meta re-enactments of her own work.
To add to the mimesis and doubling, the San Francisco based photographers Keeney + Law were commissioned by the SF Bay Guardian to take a series of portraits of drag artists mirroring the Sherman style -- specifically, four photographs from her "Untitled Series". The Guardian commissioned the project to celebrate SF MOMA's Sherman retrospective, stating on their website, "it's all about looking twice -- or in Sherman's case, four or five times -- and we wanted to see how many layers of gaze her work could hold."
The four works range from fairly strict adherence to the corresponding Sherman photo to a more improvisational approach -- for example, the subject whose skin color mimics the sickly orange of the 'Cheetos' package she cradles to her stomach. It's a provocative mix of soft evocations of femininity and an aggressive sexuality which seeks to challenge gender stereotypes.
In a recent email interview, Fauxnique aka Monique Jenkinson, a SF based drag queen, discussed the reenactment series, the beauty of Cindy Sherman's work and what being in drag adds to the series. Scroll down for the slideshow.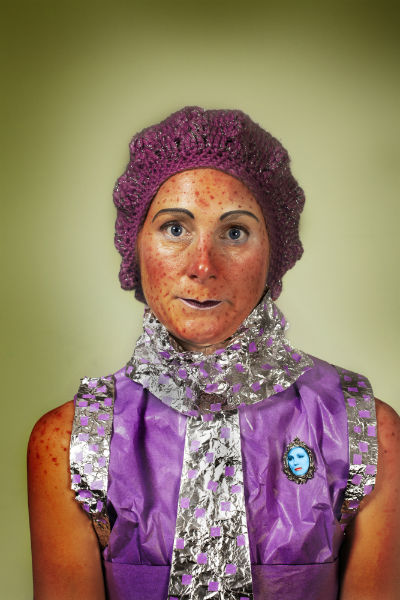 FAUXNIQUE: UNTITLED #351
HP: Can you tell us a bit about yourself and about your work?
Fauxnique: My work explores femininity, glamour and process –- drawing on physicality (classical ballet and post-modern improvisation), theatricality (camp, the ridiculous and the absurd), and theory (queer and feminist). I work in theaters, nightclubs and museums, and explore connections and tensions between art and entertainment. I am a dancer and a drag queen.
HP: How did you go about re-enacting the photograph?
Fauxnique: As soon as I decided to do this one, I figured out how to put my own little signature on the piece by creating the character's dress out of foil and paper (I work a lot with paper costumes). The pattern on the dress is made from little tiny squares of tissue paper glued onto the foil. I am not sure if that is obvious, but it was really important to me (and I am very grateful to my lovely assistant, who helped with the cutting and glueing). I was also really interested in the freckles -- the fact that, at first glance, they don't really look like makeup, and are so different from the drag face I usually create, but just as intricate, specific and time-consuming. It was a welcome challenge to figure out how to create them, and really ended up being like painting. I also included one of my personal icons (Julie Andrews from Victor Victoria) as the medal the character is wearing.
HP: What speaks to you about Cindy Sherman's photographs?
Fauxnique: So much! So much that speaks to me about her work, is of course, only articulated by the work, and is inarticulable. I love that she has pushed this thing, her thing, for so long. I love the humor in her work, and that there is almost always simultaneous play and pathos. I love that there is a lack of slickness in some aspects (wrinkled fabric we see reused from era to era, plastic plants and un-seamless makeup) in the midst of such incredible attention to detail. Her work has an incredible amount of investment and work and embodiment. And of course I love her powerful explorations of femininity and the fact that she is a very powerful woman artist.
HP: What does drag bring to this re-enactment series?
Fauxnique: I think that Sherman already brings a tremendous amount of drag sensibility to her work, which in a sense, could make this re-enactment redundant. But the drag artists and the drag form bring another layer of practice and awareness.
See a slideshow of the work below, and let us know your thoughts in the comments section.
PHOTO GALLERY
Drag Artists Re-Enact Cindy Sherman Portraits
BEFORE YOU GO