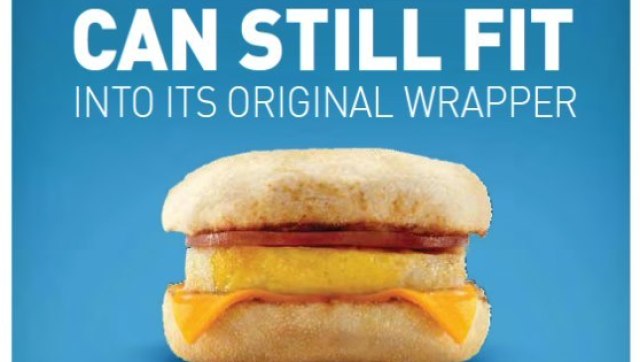 Today marks 40 years of McDonald's breakfast service. To celebrate the Egg McMuffin's 40th birthday, McDonald's Executive Chef, Dan Coudreaut, stopped by "Good Morning America" to teach us all how to make them at home. We've met Chef Coudreaut before -- he taught us all how to make our own Big Macs and once explained that he "doesn't see anything on the [McDonald's] menu that's unhealthy." We love this guy.
So, here's pretty much how Coudreaut describes the secret recipe: just make a breakfast sandwich.
We're only half kidding here. There is no "secret sauce" involved. How do they get their eggs perfectly round? They cook them in a ring. How do they get their Canadian bacon perfectly round? They cut it. With a ring. (The oohs and aahs this inspired from the crowd really concerned us.) How do they make their English muffins taste so buttery? GUYS -- they put butter on them.
So now you know how to make your own Egg McMuffin at home. Do with this information what you will. We are certainly glad to put an end to the urban legend that McDonald's has some sort of cylindrical egg-loaf that they slice their eggs from.
We are, however, concerned about the sandwich-assembling skills of the "Good Morning America" anchors. Don't quit your day jobs, guys!
BEFORE YOU GO
PHOTO GALLERY
2011's Top 10 Fast Food Chains (By Total U.S. Sales)