I am so excited to have Carrie Goldman, a prominent voice in the anti-bullying movement and author of "Bullied", joining me soon on Mondays with Marlo. Now's your chance to ask her anything you'd like to know about:
Bullying tips for parents
Cyber-bullying tips
Carrie's recently published book, "Bullied"
Tips for bystanders
Tips for teachers and administrators
Long-term damages of bullying and being bullied
How bullying affects a child's brain
How the bystander is affected by bullying
And anything else you'd like to know!
Carrie Goldman's popular blog "Portrait of an Adoption" tackles issues related to parenting, bullying, and adoption for chicagonow.com, the online community of the Chicago Tribune. She writes regularly for top parenting sites such as HuffPost Parents, Circle of Moms, Babble.com and Mamapedia.com. Her blog was ranked sixth in Babble.com's 2010 Top 50 Mom Blogs. Goldman received her B.S. from Northwestern University and her M.B.A. from the Kellogg School of Management. Today, she lives in Illinois with her husband and three young daughters.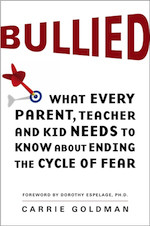 Add Marlo On Facebook:
Follow Marlo on Twitter:
Sign up to receive my email newsletter each week - It will keep you up-to-date on upcoming articles, Mondays with Marlo guests, videos, and more!