Old Navy will soon be slinking back to the locker room in shame, now that football fans have uncovered an embarrassing error on one of its sports T-shirts.
An NFL-themed T-shirt formerly for sale from the company declares the Houston Texans the "1961 AFC Champions." What's the problem? The Texans didn't win that title. It was the Houston Oilers, now the Tennessee Titans, that won the 1960 and 1961 championships of the American Football League.
In fact, the Houston Texans weren't even an extant team until 2002. Oops!
The Houston Chronicle reports that savvy employees spotted the error and bought some for posterity (and future eBay sales?), even pointing it out to shoppers who tried to purchase the shirt.
It gets worse for Old Navy (and its quality consultant?): there are other football flubs with the new line of tees, too,the Chronicle says. The Cleveland Browns shirt declares the Browns as 1964 AFC champions; the Browns, who now play in the AFC, won the NFL title that year. In addition (and we'll quote because our football knowledge is admittedly subpar): "shirts for the New York Jets and Kansas City Chiefs proclaimed them as NFL champions for the 1968 and 1969 seasons. Both won Super Bowls that year, but they did so as members of the AFL."
A company spokesperson told ESPN that it would be pulling the shirts from the stores. At the time of writing, the shirt seems to have disappeared from Old Navy's website, thought it was still up as late as 8 p.m. Sunday.
The mislabeled tee isn't Old Navy's first football T-shirt fumble. Last year, a series of college football tshirts debuted with a serious grammar mistake.
Scope out the erroneous tee below, and read more over at the Houston Chronicle.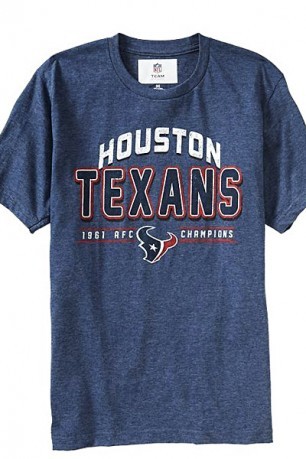 See more controversial products below!
PHOTO GALLERY
Controversial Products
Want more? Be sure to check out HuffPost Style on Twitter, Facebook, Tumblr and Pinterest.