Would Moonlight Graham or any of the 980 position players to appear in just one career major league game sign the petition for Adam Greenberg to get a second chance at the plate?
One of the inspirations behind W.P. Kinsella's elegiac baseball novel "Shoeless Joe" (and the film it inspired, "Field Of Dreams"), Archibald "Moonlight" Graham famously made just one appearance for the New York Giants as a defensive replacement in right field in June 1905 and never registered an at-bat in his one-game MLB career. Graham was stranded in the on-deck circle when the final out was made in his single game, according to Retrosheet founder David W. Smith (via MLB.com).
On the occassion of the centennial of Graham's solitary appearance for the Giants during an uneven win in Brooklyn, Kinsella told The Associated Press that he was drawn to the ballplayer while examining a baseball encyclopedia that he had received as a gift.
"I found this entry for Moonlight Graham. How could anyone come up with that nickname? He played one game but did not get to bat," Kinsella recalled to The AP in 2005. "I was intrigued, and I made a note that I intended to write something about him."
Not long after Graham's anniversary, Greenberg was in uniform for the Chicago Cubs, appearing in the first game of his major league career on July 9, 2005. Called up from the Class AA West Tennessee Diamond Jaxx, the 24-year-old was sent out by Cubs manager Dusty Baker to pinch-hit in the top of the ninth with his team leading, 4-2, at Dolphins Stadium. As Greenberg told Rick Paulus of The Awl in May 2012, Baker sent him to the plate with one goal.
"My job was to get on base," Greenberg recalled. "I certainly was successful in doing that."
While Greenberg never did reach first base he did secure a baserunner for the Cubs after being hit by the first pitch that he saw in the majors. The 92-mph fastball zipped out of the left hand of Florida Marlins relief pitcher Valerio de los Santos, rising and drifting away from the target set up by catcher Paul Lo Duca. Greenberg turned away but the ball hit him solidly in the back of his head. The pitched projectile struck him behind his right ear with his helmet absorbing only some of the force from the fastball, as recounted by The New York Times. The thundercrack of the impact sent Greenberg down and brought Lo Duca up. The backstop waved for help from the dugout as Greenberg cradled his head, lying on his back.
"Going down, the way he went, the first thing that goes through your mind is, 'this guy is dead,'" De los Santos told ESPN's "Outside The Lines" in 2007.
WATCH: Greenberg's At-Bat (during Outside The Lines segment)

The mild concussion suffered when he was hit by the pitch eventually gave way to positional vertigo, according to ESPN and The New York Times. As he struggled to return to the big leagues, Greenberg spent the 2006 season bouncing around the minors in the Cubs' and Dodgers' farm systems. He landed a spot in spring training with the Kansas City Royals ahead of the 2007 campaign, when "OTL" documented his comeback attempt.
Not for lack of effort on his part, Greenberg has yet to make it back to the plate in major league uniform. Per MLB rules, a plate appearance that ends in a hit-by-pitch does not count as an official at-bat. His supporters want him to get his "one at-bat."

Of the nearly 1,000 "Cup of Coffee" position players listed at Baseball-Reference.com as having appeared in just one MLB game, Greenberg is among 227 with only a single plate appearance. Graham is among the 330 with no plate appearances. Greenberg's stat line of one plate appearance but no official at-bat is shared by just 26 other players, including 3-foot-7-inch Eddie Gaedel. According to Elias Sports Bureau, via ESPN, only seven players were ever hit by a pitch in that lone plate appearance (through the 2006 season). In that number, Greenberg and Fred Van Dusen were the only two that never saw any time in the field. Per William Weinbaum, Van Dusen saw four pitches.
Graham never got the chance that Greenberg did to face a big league pitcher. Who is the luckier player? In "Field Of Dreams," the fictionalized Graham's one wish is to get the chance that Greenberg got in 2005.
"I never got to bat in the major leagues. I would have liked to have had that chance. Just once. To stare down a big league pitcher. To stare him down, and just as he goes into his windup, wink. Make him think you know something he doesn't. That's what I wish for. Chance to squint at a sky so blue that it hurts your eyes just to look at it. To feel the tingling in your arm as you connect with the ball. To run the bases - stretch a double into a triple, and flop face-first into third, wrap your arms around the bag. That's my wish, Ray Kinsella. That's my wish?"
Is this truly how Graham felt? Kinsella didn't know. Phil Alden Robison, who wrote the screenplay, didn't know. Neither did Burt Lancaster, who portrayed Graham in the film. Who could have known if the lack of a turn at-bat nagged Graham throughout his life?
Perhaps Adam Greenberg. Of course, Greenberg's turn at the dish came and went in less time than Graham may have needed to wink at his opponent.
Moonlight Graham Career Stats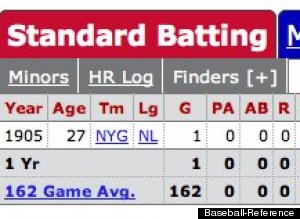 "You can make any comparison you want," Greenberg responded to Bob Holzman of ESPN in 2007 when asked about the comparisons to Graham. "I know in my heart that.. I mean.. I'm.. that's not going to be it. I'm not going to be a 15-minute-of-fame.. you know.. one pitch guy in the major leagues."
Adam Greenberg Career Stats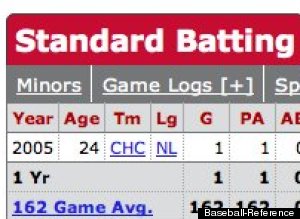 *Screenshots from Baseball-Reference.com
As his story again garnered attention late in the 2012 MLB season, Greenberg's Twitter profile described him first as "Professional Baseball Player" and secondly as an "Entrepreneur." The name and website of a dietary supplement was then listed.
According to the SABR Baseball Biography Project, the Evening World wrote in 1905, "Dr. Archie Graham, who is to join the Giants as soon as he completes his examinations at the Baltimore Medical College, is known as 'Moonlight' because he is supposed to be as fast as a flash."
Veda Ponikvar, one of the many in Chisholm, Minn. who was cared for by Dr. Graham after his stint with the Giants, recalled two other possible explanations for the famous nickname.
"I think it was because by the light of the moon, he practiced his game," Ponikvar told The Associated Press in 2005. "But some people said it was because he moonlighted as a doctor."
Unlike Graham, who stuck with his medical studies even as a roster spot with the Giants waited for him, Greenberg seems to have maintained a laser focus throughout his professional career, telling Barry Bearak of The New York Times that "Failure is not an option" in 2007.

With the dogged determination of man who refused to even consider other career paths, Greenberg kept chasing his big league dream, preferring to think it had been deferred by that errant pitch rather than denied. An athletic outfielder who brought speed to the basepaths, Greenberg had never been a particularly strong hitter before getting beaned. In the season following the incident, his batting average dropped to a paltry .206. With his age advancing and his offensive production declining, Greenberg found himself playing for the unaffiliated Bridgeport Bluefish in 2008.
"In his first movement as a hitter to get ready to hit, sometimes it messes up his swing," Bluefish manager Willie Upshaw told The Shoreline Times in 2011, describing what he perceived as the lingering effects of the HBP. "His first movement is a little bit passive, not going toward the hitting zone."
When the independent Bluefish began play in the Atlantic League in 2012, Greenberg was no longer with the club. At age 31, the door would seem to have finally closed on Greenberg.
Enter Matt Liston, the self-described baseball activist who directed "Chasing October" and was a co-producer of "Chasing Hell".
Liston posted a petition at Change.org and created a promotional video in hopes of convincing Cubs owner Tom Ricketts to provide an at-bat to Greenberg in the team's final homestand of the season. With the Houston Astros visiting Wrigley Field from Oct. 1-3, there would be no playoff implication to the games. To Liston and the more than 14,000 who added their names to the petition, this would be the ideal chance to make Greenberg's dream come true. That the move could come at the expense of another aspiring big leaguer clinging to his own roster spot was a price Greenberg's supporters seemed willing to pay.
WATCH: Liston's One At-Bat Movement

CLICK HERE to read full petition.
"When I saw the first cut of the video, it almost led me to tears," said Greenberg last week, commenting on Liston's video to the New Haven Register. "It's nice to know someone cares this much. The fact that he's doing this only because he wants to is pretty awesome."
Could a team cursed for denying a seat to a billy goat could be redeemed by providing an official at-bat to an unlucky outfielder?
The Cubs seem not to think so. On Tuesday, Chicago Cubs general manager Jed Hoyer informed the Chicago Tribune that Greenberg is not in the team's plans.
"Adam made the big leagues based on merit in 2005," Hoyer told the Chicago Tribune in an email. "While it is unfortunate he got hit in his first at-bat, he is in the Baseball Encyclopedia as a major leaguer and he should be incredibly proud of that. We wish him the best, but there are no plans to add him to the roster now or in the future."
With his career with the Cubs seemingly fixed in his past, Greenberg was tweeting about his future on Tuesday. The Connecticut native is competing for a spot on Team Israel for the 2013 World Baseball Classic.