Something seems off about this special from a Texas pizzeria framed to the kickoff game of the NFL's 2012 season. We'll give you a hint: the differing prices offered to fans of rival sports teams.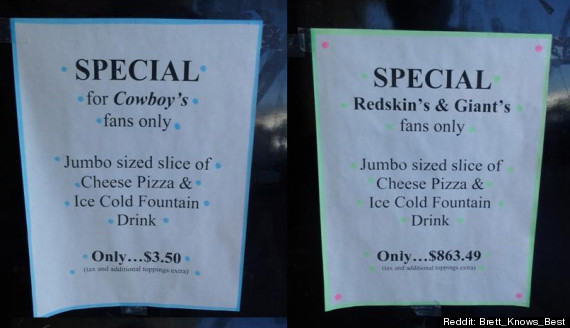 Eater points out a Reddit post from user Brett_Knows_Best featuring Extreme Pizza in Dallas, which we have a feeling might rile a few feathers among footballs fans.
We'll break it down for those of us who don't follow sports. The Dallas Cowboys hate the New York Giants and the Washington Redskins. The New York Giants and the Washington Redskins hate the Dallas Cowboys. Thus explains the special price for a jumbo slice of pizza and a soda: $3.50 for Cowboys fans, and $863.49 for Giants and Redskins fans.
That's a price hike of about 24,671 percent, for the record. We don't know about you, but we'd just as soon be a Cowboys fan for the night.
BEFORE YOU GO
PHOTO GALLERY
Best Pizza Restaurants