Food Informants is a week-in-the-life series profiling fascinating people in the food world. We hope it will give you a first-hand look at the many different corners of the food industry. Know someone who would make a great Food Informant? Tell us why.
Chef Eric Brenner has multiple food allergies in his family and years of experience cooking for food-sensitive restaurant customers. Named the 2008 Top Chef and Chef of the Year by multiple publications in St. Louis for his former restaurant MOXY Contemporary Bistro, he has now brought his culinary style to BOLD Organics, a line of gluten-free, dairy-free, lactose-free, casein-free, whey-free, egg-free, peanut-free and tree nut-free frozen pizzas that contain no GMOs, preservatives, nitrites, nitrates or trans-fats. Working together with 21-year-old company founder Aaron Greenwald, Brenner has created a new line of gluten- and allergen-free products that meet the dietary restrictions of the tens of millions who suffer with food sensitivities.

Read on to learn more about Eric's daily duties as chief culinary officer at BOLD Organics and his business trip home to St. Louis.
Monday, August 20
7am: Up and moving as quick as possible; walk the dog, check personal emails, quick workout, and head out to seize the day. Mondays are always busy at the office.
9am: Arrive at the BOLD Organics offices in Harlem with my triple soy latte in hand. First thing on the to-do list: consumer emails. I love to personally respond to any questions and say hello to new supporters of the brand. Then I head straight to Facebook to say hi to our newest friends and fans. The bulk of the day is spent catching up on emails and plotting out the week ahead.
1pm: Lunch. I opt for sushi delivery and eat at my desk (gotta love NYC).
3pm: Reach out to various food suppliers to discuss new developments in their product line and trends in the market (availability, cost increases, seasonality).
5pm: Wrap up the marketing agenda for the week to make sure we are up to date. Then get a quick call into our L.A. facility to check on new the production runs and some ideas I have to improve the process. Dinner with a friend who is in town on business at Le Bernardin.

Tuesday, August 21
1pm: After my usual morning office routines, I head out to our test kitchen to begin work on some new ideas. I accept delivery of the various supplies that I've been researching and begin building the dishes I have in mind. Because I hold the additional position of marketing director, I have a direct line to our consumers; what they like, what they want us to try, and how they are responding to our gluten-free and dairy-free products. I package the dishes into the freezer and invite my co-workers to a tasting next week.
3pm: Meeting to discuss our trip to St. Louis, my hometown. Even though I just officially moved to NYC two weekends ago, I'm excited to take a trip home. We've got a busy schedule planned with a cooking demo, Kookin for Kids charity event and media interviews lined up but I'll hopefully be able to squeeze some friend/family time in as well.
5pm: A late lunch/early dinner to speak with the owner at Penelope who is looking to expand her business. Hoping to develop our foodservice line soon to offer our products in restaurants, hotels, hospitals and schools. The meal is a bonus for the effort.
7pm: Back home for some time with the wife and pup before I head to St. Louis tomorrow.
Wednesday, August 22

9am: Arrive in the office to continue my outreach with celiac groups throughout the country. I have been making contact with all of the various support groups, physicians, nutritionists and charities to learn as much as I can abut the new developments in treatment and diagnosis and develop partnerships. I also get back on my email, Facebook and Twitter stuff so I am not buried when I return to the office Monday.
12:30 pm: Back into the BOLD test kitchen to work on more products. We have meetings to discuss the "showroom" we hope to build out in a few months. It would be an interactive demo kind of kitchen where we can serve new recipes to willing patrons and get instant feedback on how we are doing. We tour a couple potential locations. Then I get back to the kitchen and to the endless task of working with new tastes, textures and compositions.
4pm: Finish up some notes on my day's culinary discoveries, hit the grocery store to shop and peruse the shelves for new ingredients and check out the competition. I grab any interesting products that are new to the store to sample them all at home. I also splurge on all the seasonal fruit and veggies (organic, of course) to cook for some friends coming by for a quick dinner then its time to hit the friendly skies.
8pm: Jump into a Twitter discussion on gluten free diet and the new scuttle on whether oatmeal is going to be finally freed from the gluten stigma (great news for my oatmeal cookie plan...).
11pm: Arrive in St. Louis and Aaron Greenwald, the founder of BOLD Organics and co-conspirator on this trip, drops me off at my buddy's house where I'll be staying while he heads to check into his hotel. We grab a late meal at Brasserie by Niche and Taste right next door, the exact spots where my restaurants once thrived. We discuss the trajectory of my culinary adventures from when he found me in this little bistro and we collaborated to bring healthy products to the entire country. I feel a greater sense of growth and purpose as we nosh through a stellar meal and chat with the new owners (who always take great care of me and fill me in on new local industry gossip).

Thursday, August 23
6am: Wake totally famished and head to my favorite breakfast spot Kaldis Coffeehouse, owned by friends and colleagues that I consulted with while developing their new chain of coffeehouses. A large cup of the best Yirgacheffe Ethiopian coffee to make sure I'm alert for the day's media interviews. Meet Aaron to shop for the live TV cooking demo in a couple hours.
11:45am: Just got to the set of Show Me St. Louis where we have a cooking demo scheduled to air on the day's show. Whipping up a gluten-free and dairy-free version of my grandmother's fried chicken for the show with my special blend of flour alternatives. I love being able to show people that they don't have to give up their favorite foods because of a food allergy or diet choice.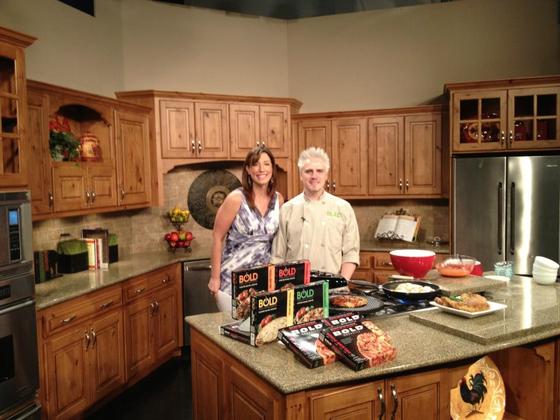 3pm: A quick lunch at Jack Patrick's in the shadow of the Arch while discussing the upcoming interview at the St. Louis Post-Dispatch with Aaron and why he chose St. Louis to attend college at Washington University. Psyched to tell our story to my hometown paper. I recognize the retail editor who interviews us as a regular at my restaurant. The paper's food writer who has covered my career comes by to say hi and try a slice of pizza.
5pm: Aaron drops me off at my previous home so I can do a quick clean and grab a few cooking utensils that I left behind. I visit with my mom, brothers and sister before meeting a buddy at my favorite Vietnamese joint, Little Saigon, for the green papaya salad that I eat every time I come to St. Louis and the best pho ever.
7pm: We head to check in at a local radio station with an old friend and neighbor hosts. John Carney is a local celebrity from a line of entertainers and we have an absolute blast on his informal talk show. After the show ends, I take Aaron to meet some friends of mine and watch their band, Dr. Zhivegas, pack the dance floor. The friend I am staying with is the drummer and he invites me to sit in on a song. Feels great to be back behind the drums again -- it used to be my life!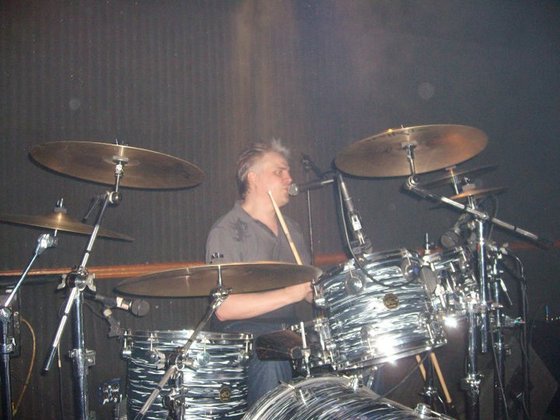 Friday, August 24
10am: Got to sleep late! After a leisurely morning, Aaron and I meet up to take some product information and samples to Sauce, an award-winning monthly St. Louis food magazine. The publisher makes her way out of her office to say hi and catch up with me about the company and my move to NYC. We visit briefly while discussing food trends and the rise in quality of organic and local farm-to-table concepts.
1pm: We have a great meeting with a regional distributor who will be taking our pizzas on and getting them placed in nearly 600 new stores. This will take us over the 2,000 mark that we expected by late this year. Awesome!
4pm: I head back to catch up on some office work and emails. I check in with our PR and marketing team to convey the success of the week and the great plans for the weekend on all social media.
8pm: I meet Aaron and a friend at Sidney Street Cafe, the best restaurant in the city, to celebrate the great week so far. Later that night, we meet some of my closest friends at a speakeasy and introduce them to my new, young boss. Fun always ensues.
Saturday, August 25
9am: Just reviewed the final prep for the Kookin' for Kids event. St. Vincent Home for Children does an amazing job helping St. Louis area kids and their families through some tough times. The event itself has some pretty heavy hitters involved -- St. Louis' mayor, former Cardinals all-pro offensive guard Irvine Goode, Lou Brock and some other great sports figures and local media celebrities. I hope I don't get too star-struck!
2pm: Stoked to get this cooking demo underway. The new Dierbergs store looks amazing and their culinary event center is awesome. I've got a great menu planned -- Grandma's Gluten Free Fried Chicken, dairy-free mashed potatoes and gluten-free/dairy-free cornbread for the crowd. My sister, the pastry chef, has also prepared her flourless chocolate cake. This is the first recipe that opened my world to the possibilities of allergen-free cooking. I'll be demoing the cake myself and working to tweak her recipe to produce the same great taste without the butter for our dairy-free friends.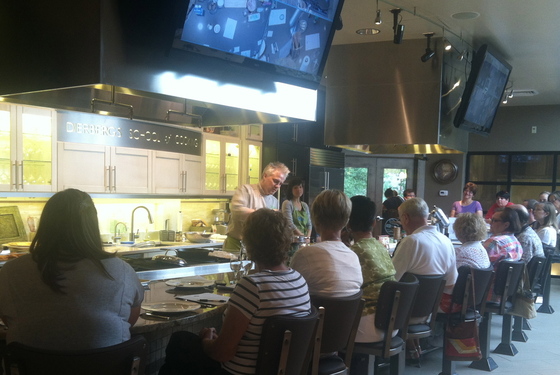 4pm: The demo went really well. The audience was awesome and had some really great questions about eating allergen-free. It's not always easy to find substitutions and ways to make the food people love but we'll keep trying! Stuck around after the demo to chat more with the bloggers and celiac group members that attended about the latest research into allergies and what's new with our brand.
7pm: Aaron and I run to a great dinner at Harvest and chat with the chef about our mission and if he's seen an increase in allergy conscious guests. I like to keep up on the allergen-free dining scene in my hometown to make sure my old customers are still being taken care of.

Sunday, August 26
8am: Up early to put the finishing touches on my dishes for this afternoon's event. The St. Louis Post Dispatch article on BOLD Organics is prominently placed in yesterday's paper. My email, Facebook, Twitter and cell phone fills up with friends and fans that have read the article. What an awesome response to our efforts.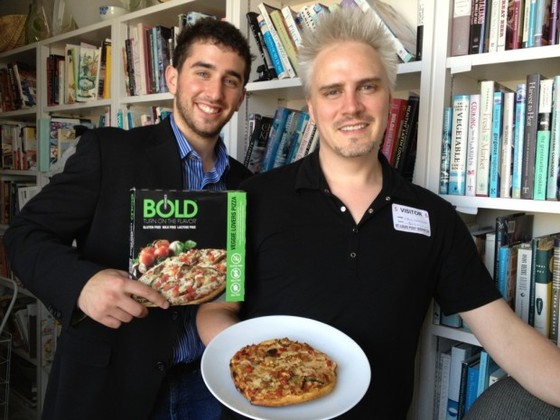 2:30pm: Heading over to the Chase Park Plaza Hotel to get set up. Ovens, check! Utensils, check! Pizzas, check! Ready to get under way.
4:30pm: I quickly set up and make my way around the room to visit with all the other local chefs and restaurateurs who have volunteered their time and talent to this great event. Many of them are dear friends. We luck out and get paired with St. Louis Cardinals Great Lou Brock and his gracious wife as our celebrity hosts. What an honor! They are passionate supporters of healthy eating and children's causes.
9pm: Back at the airport to make my way back to NYC. It's been a blast being home these past couple of days and a huge reminder of how much I miss it! But I know there's a lot of opportunity waiting for us back in the big city!
See more Food Informants below:
PHOTO GALLERY
Food Informants