It is no secret that we HuffPost Arts eds are suckers for a good pun, especially when said pun involves Danny DeVito. We were ecstatic to say the least by Hanksy's newest round of Hollywood-fueled street art pranks. We didn't think the Banksy-Tom Hanks lovechild could top his "Ferrell Cats," but we may have to eat our words.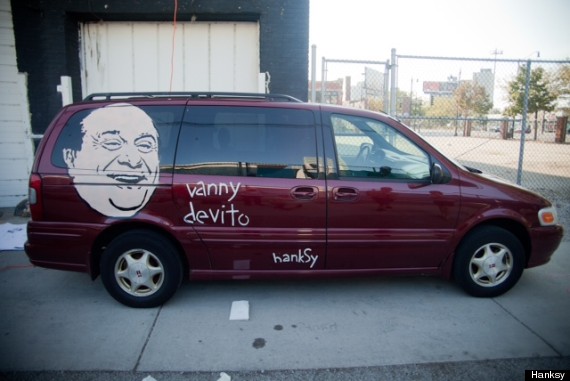 The newest round takes Hollywood's most beloved Dans (DeVito and Aykroyd, obviously) and places their famous faces onto the side of minivans. Dans on vans... it all comes together now.
Hanksy teamed up with Chicago art collective FeelTrip for these van-tastic works. They also gave a shout-out to Chicago Mayor Rahm Emmanuel by painting the Three Stooges with his signature mug in tow. (It's called "Rahm-Com.")
What do you think of Hanksy's new street art homages? We're certainly happy to see him expanding beyond NY... but we have to admit we're a little jealous of Chicago right now.
Check out the works below:
BEFORE YOU GO