On the eve of her royal wedding, Kate Middleton slinked out of her palace-in-waiting and into a secret limousine that whisked her to Britain's finest nose waxer, where any (gasp!) stray nasal hairs were gently tugged out by magical doves.
Okay, not really. But according to Nad's, the DIY hair removal retailers who just launched a new type of at-home wax kit, nose hair is an uphill battle we all face. In our noseparts.
Launched this week, Nad's Nose Wax For Men & Women promises you "the convenience of removing unwanted nose hair as needed in the privacy of your home." Welp. The combination of the words "wax" and "nose hair" have already got us feeling queasy. Is this really necessary?
Yes. "Nose waxing has been a growing trend in beauty salons since 2009," Nad's writes earnestly on its website. "For most of us, nose hair trimmers are just not cutting it anymore, leaving hair behind and of course the regular maintenance that is required is very annoying."
Okay, we get it. Our nose hair is probably the only thing keeping us from marrying a prince. So now what?
Here's how the new Nad's nose waxing kit works:
Apply hot wax to applicator and insert into nose.
Wait 90 seconds.
Rip applicator from inside of nose.
Scream bloody murder and fall over on your cat shrieking in pain.
Guzzle Maker's Mark through a straw while marinating your nose in a ice bucket.
Now, there is one cool double use for the nose wax. Once it takes off its glasses and puts on its superhero cape, it becomes a blackhead removal system: just paint onto your nose using the spatula and rip off when cool, like a gummier Biore pore strip.
Watching the video demo made us want to die a thousand fiery deaths rather than stick hot lava up our nostrils. The best part, though, is the mustache "stencil" that's designed to protect your dude's facial hair but could actually double as a party accessory in Bushwick.
Ready? Scope the video below and let your eyes water in vicarious pain.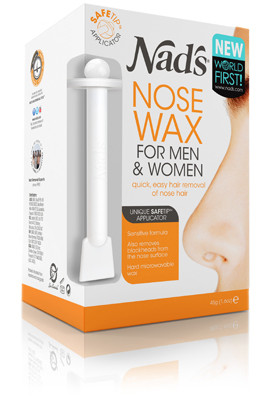 See more bizarro ladyproducts:
PHOTO GALLERY
Stupidest Products For Women
Want more? Be sure to check out HuffPost Style on Twitter, Facebook, Tumblr and Pinterest.