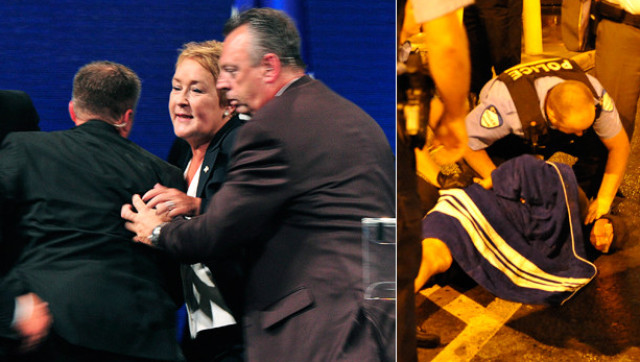 Parti Quebecois Leader Pauline Marois was rushed off stage during her victory speech Tuesday night after shots were fired.
Montreal police tweeted that one person was killed and another critically injured when a 50-year-old man opened fire at Montreal's Metropolis concert hall where Marois was making her speech. The man has been arrested, according to police.
After the shooting, the man lit fire to the rear of the building, according to police.
The suspect, while being dragged toward a police cruiser, shouted in French, "The English are waking up!''
The man was dressed in a housecoat.
A security perimeter has been established around a vehicle that may contains guns or explosives, according to La Presse.
Security personnel whisked Marois off the stage as handlers informed the partisan crowd that there had been an explosive noise, urging them to clear the auditorium.
A PQ spokesman asked the crowd to leave when Marois was taken from the stage and the crowd milled around, confused.
Marois, who was uninjured, returned to stage soon after and asked supporters to leave the concert hall calmly.
The crowd cleared out afterward, passing by Montreal police who lined the lobby. Marois was escorted from the building in a tight cordon of provincial police bodyguards.
A fire truck was parked on the street and firemen entered as police put up crime scene tape across one corner of the stage leading to an exit.
An acrid smell of smoke hung heavily in the bar as media collected their equipment while other police officers moved around the stage and talked to the hall's own security guards.
With files from The Canadian Press
PHOTO GALLERY
PQ SHOOTING
PHOTO GALLERY
PQ SHOOTING: TWITTER REACTS
BEFORE YOU GO
09/05/2012 3:29 PM EDT
PHOTO: Marois speaking about shooting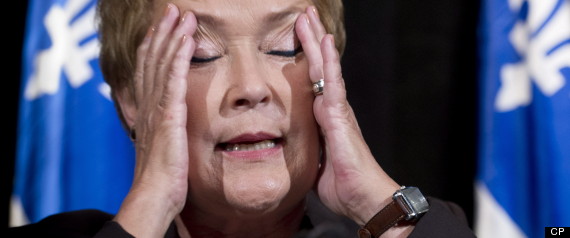 09/05/2012 2:20 PM EDT
Pauline Marois' First Orders Of Business
Premier-elect Marois says she will cancel the proposed tuition hikes which helped spark weeks of student protests earlier this year in Quebec. She will also cancel Bill 78, the much-maligned bill that gave police greater powers during the student unrest.
Marois also says she will form her cabinet within the next two weeks.
Other priorities for her new PQ government include expanding/strengthening Bill 101 language laws and working with Ottawa on the gun registry and looking at an increase on resource royalties.
09/05/2012 2:14 PM EDT
Pauline Marois Speaks About The Incident
Marois insisted that she return to the stage after being escorted off by her bodyguards. "There were at least 2,000 people there. What if those people panicked," she said at a press conference on Wednesday afternoon. She urged the crowd to exit the building calmly and slowly.
"I didn't know at that moment, outside, that there was a man who had been killed," she told the press conference.
She added that she never felt unsafe during the shooting but did not know that the man had been killed until after she left the building.
09/05/2012 1:59 PM EDT
Victim's Name Released
The victim in last night's deadly shooting has been ID'd as Denis Blanchette, a 48-year-old freelance technician who worked at the venue.
09/05/2012 1:57 PM EDT
More On Richard Henry Bain
Richard Henry Bain, the suspect in last night's shooting runs a fishing and outdoors business near Mont Tremblant.
Police say they seized an AK-47 and a handgun last night.
09/05/2012 11:02 AM EDT
Prime Minister's Statement On shooting
Prime Minister Stephen Harper has released a statement on last night's events:
"I was angered and saddened to hear of last night's horrific shooting at the Parti Quebecois event at Metropolis.

"It is a tragic day where an exercise of democracy is met with an act of violence.

"On behalf of all Canadians, I offer my deepest condolences to the family and friends of the victim and wish the person injured a swift and complete recovery.

"This atrocious act will not be tolerated and such violence has no place in Canada. Canadians can rest assured that the perpetrator of last night's events will face the full force of the law."
09/05/2012 10:24 AM EDT
PMO response
@ PMO_MacDougall :

We are deeply concerned with the violence that occurred and our thoughts are with the victims and their families. #Qc2012