Kissing -- the act of pressing one's lips against the surface of another object or person -- is a simple gesture acted out between lovers, a mother and a son, or strangers meeting for the first time. It can be subtle or aggressive, customary or sublime, familial or erotic, but always ends up visually stimulating.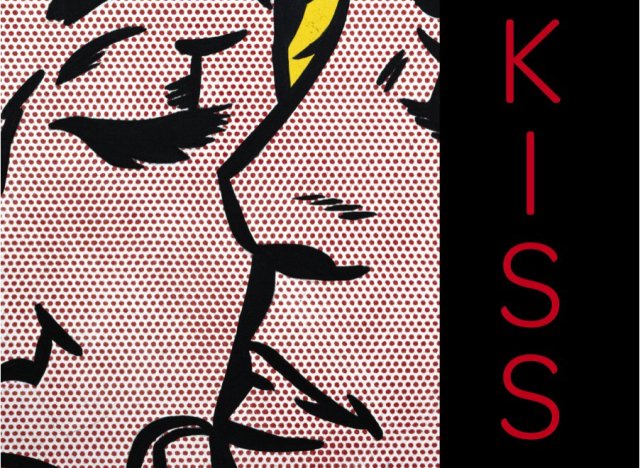 Close up of "The Kiss" by Roy Lichtenstein, from "The Kiss: A Celebration of Love in Art"
So it's no wonder the act has been immortalized by so many artists, be they romantic or analytical in their approach of the embrace. Klimt caught a passionate bisous on the cheek, Picasso an entangled mesh of body and mind, and Cezanne a dillusional pucker of a reflection; it's a range of sentiments almost no other physical action is capable of encapsulating in such rapid and close proximity.
Despite the title, "The Kiss: A Celebration of Love in Art," the newest art book from Rizzoli New York, holds true to the wild variety of emotions conveyed through the touching of two lips. Packed with chapters like "The Embrace of Zeus," "Cannibalistic Kiss," and "Artistic License," the massive collection of artfully portrayed fondling spotlights the pure attempts at contact as well as the involuntary, violent and even comical meeting of the mouths. From ancient reliefs and medieval frescoes to the imaginations of early photographers and pop art fiends, the 256-page guide includes over a hundred different iterations of the lip lock. For this reason, it shouldn't surprise that the introduction states, "When artists depict a kiss, they usually have something else in mind."
The collection of steamy kisses is a visual feast, complete with images from Brancusi to Hokusai. Needless to say, the large volume is NSFW, but would make a provocative conversation starter for the right dinner party.
Scroll down for images of some of art's best smooches in the slideshow below. Let us know what you think in the comments section.
PHOTO GALLERY
'The Kiss: A Celebration Of Love In Art'
BEFORE YOU GO